Indulge in the warmth and sweetness of timelessness for dessert.
Susan Croissant on Ekkamai 24 welcomes you with a cozy log interior, a huge parking lot, an attractive white and brown log façade, and spotless, floor-to-ceiling windows that showcase the restaurant's kitchen in all its glory. Susan Croissant set up fans and chairs outside for the delivery people to relax on while they waited for the food.Just like the name of Susan Croissant, "Susan" is like the aunt whose neighbors always love to make desserts. She always exudes the smell of bread and desserts, making people want to get close to her. Susan Croissant does not see itself as a shop, but as a croissant house. They don't put the bread in the window like other bakeries, and you can pick it yourself, but they bake it fresh after the customer orders. Every time you come to Susan Croissant, you will taste freshly baked delicacies.
When you come to Susan Croissant, don't miss their croissants, donuts and delicious drinks. Susan Croissant guarantees creative, simple but surprisingly delicious and high-quality raw materials. When they choose fruits, they only choose the best quality and best-looking fruits. In order to ensure customers' love and the quality of bread, they are willing to spend more More time to choose raw materials.
Rosie Croissant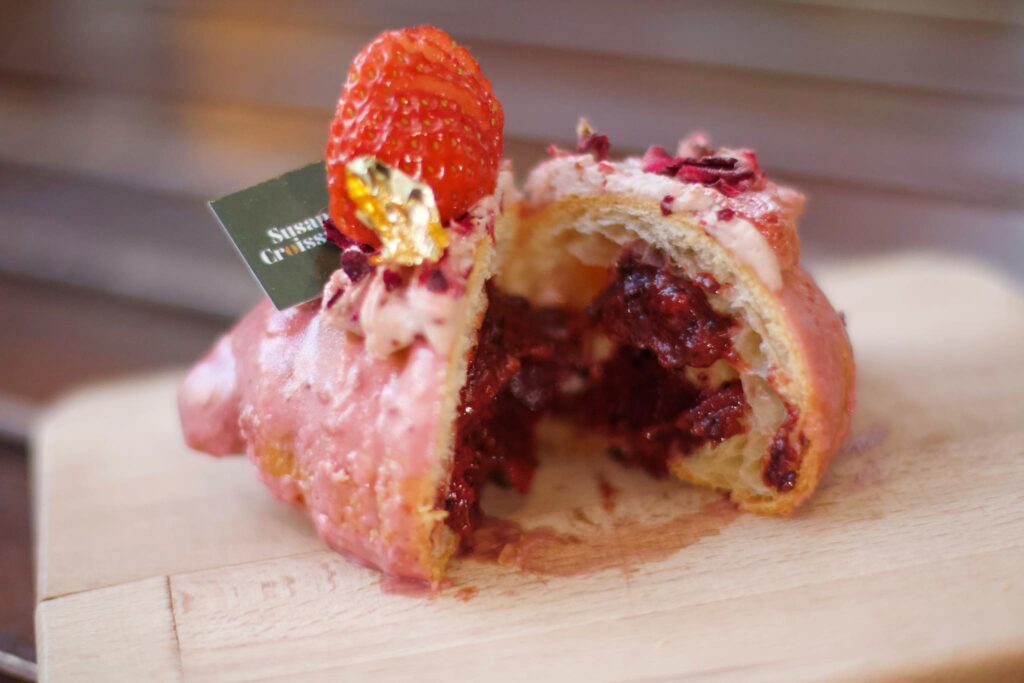 Delicious When you smell Rosie Croissant's "French Vanilla Rose Tea," you'll be transported to a sunny day in a beautiful rose garden. Susan Croissant makes wonderful strawberry cream and jam to go on top of her flaky, buttery croissants. It's impossible to overlook the perfection of a large, fresh strawberry. Crispy croissant with a sweet jam filling, light and airy Madagascar vanilla cream cheese, vivid red rose petals, fresh strawberries, and "French Vanilla Rose Tea" are all carefully picked to produce the most wonderful dessert for VIPs like you.
Molly's Crust
You wouldn't want to consume it or risk ruining such a precious little thing. It was sour at first, and then it turned sweet. Served with fresh raspberries and dried apricots, Susan Croissant's raspberry jam and cream cheese are tangy, sweet, and a touch gratifying.
Truffle Cream Sauce Croissant
You might be wondering, as you look at this croissant, what a combination of a crisp and tasty croissant with a fragrant truffle could taste like. Crêpes slathered in truffle cream sauce are a classic combination that never gets old. Croissants drizzled with a luxurious handmade truffle sauce, fresh from the oven. Bacon, sautéed champagne, and a variety of five cheeses join forces in this one-of-a-kind black and white truffle sauce. Add some smokey cheddar, thick pieces of bacon, and a rich black truffle sauce for a satisfying finish. You will be left wanting more of this magnificent treat.
Berries Explode Frido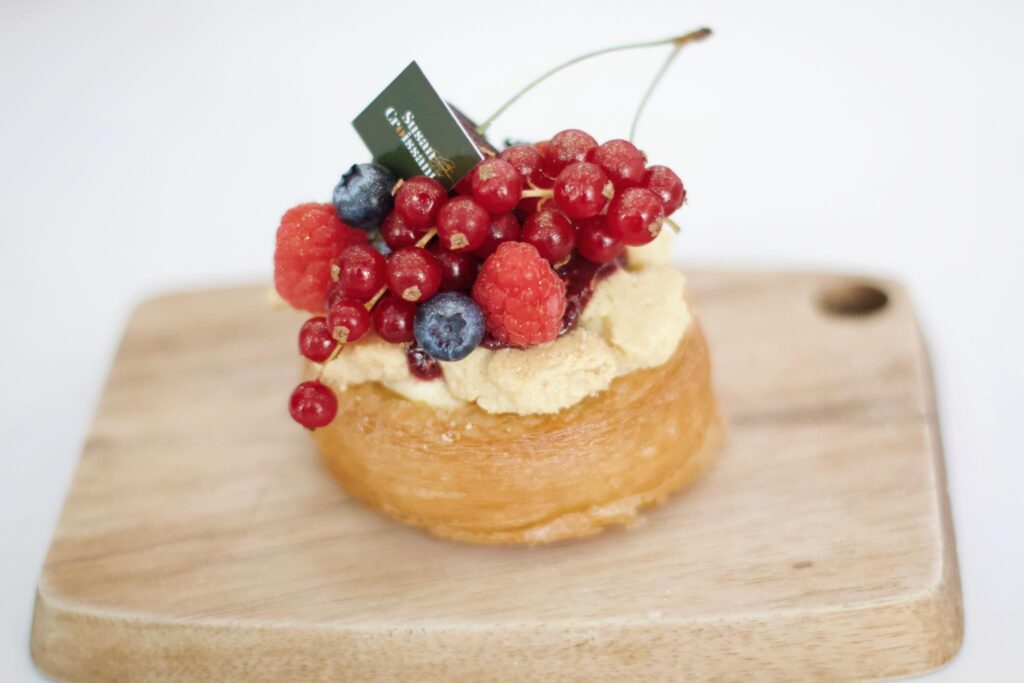 This doughnut is so stunning you won't be able to eat just one. It's covered in fresh, luscious fruit and shimmers like gold dust in the sunlight. But the delicious mixed berry sauce, cream cheese, and handmade meringue from Susan Croissant will blow your mind. Beautifully decorated with a spray of edible gold and imported mixed berries. This is a feast for the eyes as well as the stomach.
Raspberry and Custard Cream Frido
The adorable presentation makes you think the flavor is just as delicious, and a tasty dessert can brighten anyone's day. Tart raspberry sauce is combined with sweet custard and topped with fresh raspberries. If you like this flavor, you'll want more.
December 25th
Seeing this dish will put you in a joyous mood. Those who view the cute tiny apples can't help but wonder if they taste as delicious as they seem. Susan Croissant baked the world's most exquisite apple tart for a holiday party. Indulge in this flaky dough dessert topped with silky handmade custard and tangy and sweet applesauce. The cherry on top of this dish is a lovely burned apple rose. In the middle is a premium apple that has been sprayed with edible gold for further enchantment.True to its name, when you taste it, it's like being merry Christmas again.
You won't want to miss Susan Croissant, where you can pick up an excellent croissant that makes a great present and where you can spend a peaceful afternoon tea.
Details
Address:384/1 Ekkamai 24 Alley, Khlong Tan Nuea, Watthana, Bangkok 10110
Website:https://susancroissant.com/
https://www.facebook.com/susan.croissant88/
business hours:7:00am – 7:00pm