Maybe you want a café where you can stay from morning to night to pass the time.
The Weekend Cafe & Bar at Ekkamai Lifestyle Mall has a clean and simple storefront with a spacious parking lot. During the day, you will feel that it is the same as other cozy cafes, with soothing music, beautiful decoration, white walls, black signboards and green vines forming a beautiful summer scenery. The interior uses a wooden bar counter and marble dining table, the leather sofa is very relaxing to sit on, and the beautiful dinner plate is full of appetite. But at night, you will find that the white walls and the original black signboard will emit different colors of ambient lighting, and the small restaurant that looked quiet at first will immediately turn into a bar, which looks very suitable for a cocktail. You can come for afternoon tea in the afternoon, but you don't have to worry about it closing early like many cafes, and you can stay in The Weekend Cafe & Bar at night to continue enjoying and relaxing.
The Weekend Cafe & Bar, as its name implies, is an ideal spot for socializing with friends or spending quiet time over the weekend. The Weekend Cafe & Bar is a restaurant with a great live band and a relaxing ambiance; patrons are likely to spend the entire day there due to the high quality of the cuisine, coffee, and beverages available. You will never have a dull moment.
Cream Truffle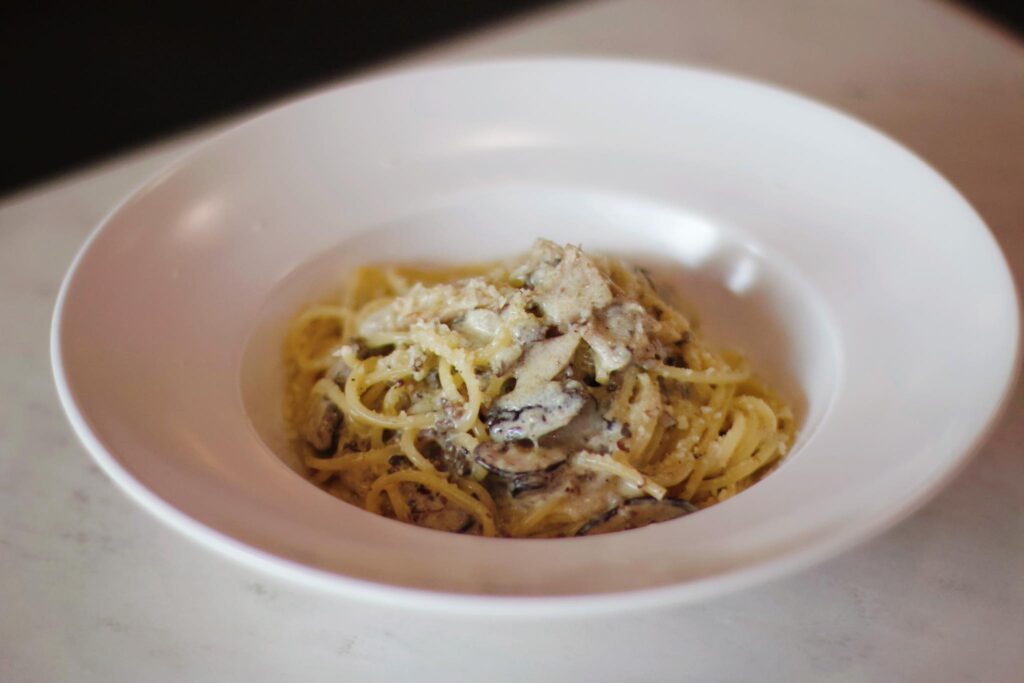 The dish's simplicity belies its irresistible quality. In this dish, the well-defined pasta is encased in a rich cream sauce, combined with aromatic black truffles, and cooked with a touch of white wine to better integrate the pasta and cream sauce, resulting in a smooth flavor and natural aroma. The pasta with black truffles that will unquestionably gratify you is ready. Truffles are delicious and nutritious, with a distinct aroma and a high protein and amino acid content. Due to their difficult growing conditions and inability to be developed in a lab, truffles are both hard to come by and expensive.With the overall milky and rich cream sauce, cheese lovers must not miss it!
Beef Fat Fried Rice Served with Deep Fried Marinated Australian Striploin
As a recommendation from The Weekend Cafe & Bar, I believe this dish is perfect, it is my favorite dish. The beef is very soft and marinated just right, it seems that the meat has melted just touching the tongue. Use oil to fry the surface of the beef to create a beautiful Maillard reaction, cover the beef on the well-made fried rice, and add some salad vegetables, so that a beautiful fried rice is completed, I believe you will love it.
Grilled Scallops with Southern Thai Yellow Curry Sauce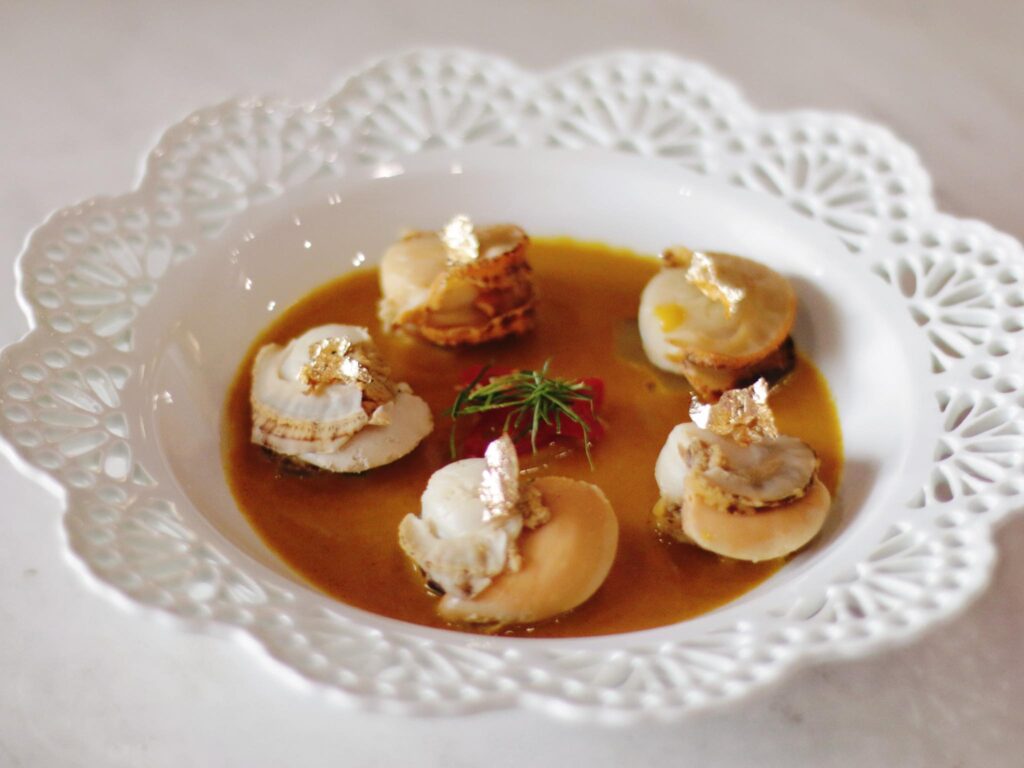 This is another recommended dish from The Weekend Cafe & Bar, this dish is not suitable for those who don't like spicy food, but for those who like such a spicy taste, this dish is very delicious. Fresh scallops are paired with Thai yellow curry sauce, which is rich and delicious. With the exquisite presentation and edible gold leaf embellishment, the rich and spicy sauce will make you feel appetizing.
Truffle Fries with Lemon Cream Truffle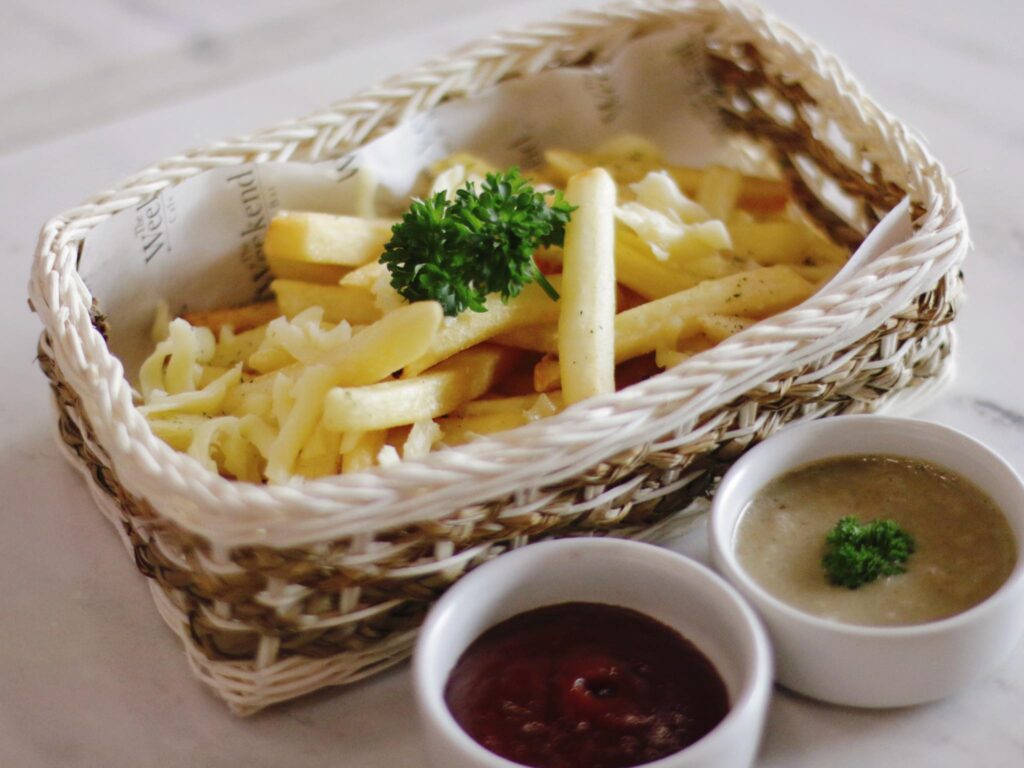 This is also a disappointment that will not disappoint you. It can be said to be a very pleasant surprise. You may think that mediocre French fries will not be delicious no matter how delicious they are, but this French fries can make you I can't stop at all, I still want to eat after eating. The lemon curd perfectly balances the taste, with a hint of sourness in the fragrance, which is very appetizing. At the same time, the truffle powder brings a fresh and rich taste, which is very addictive.
Drink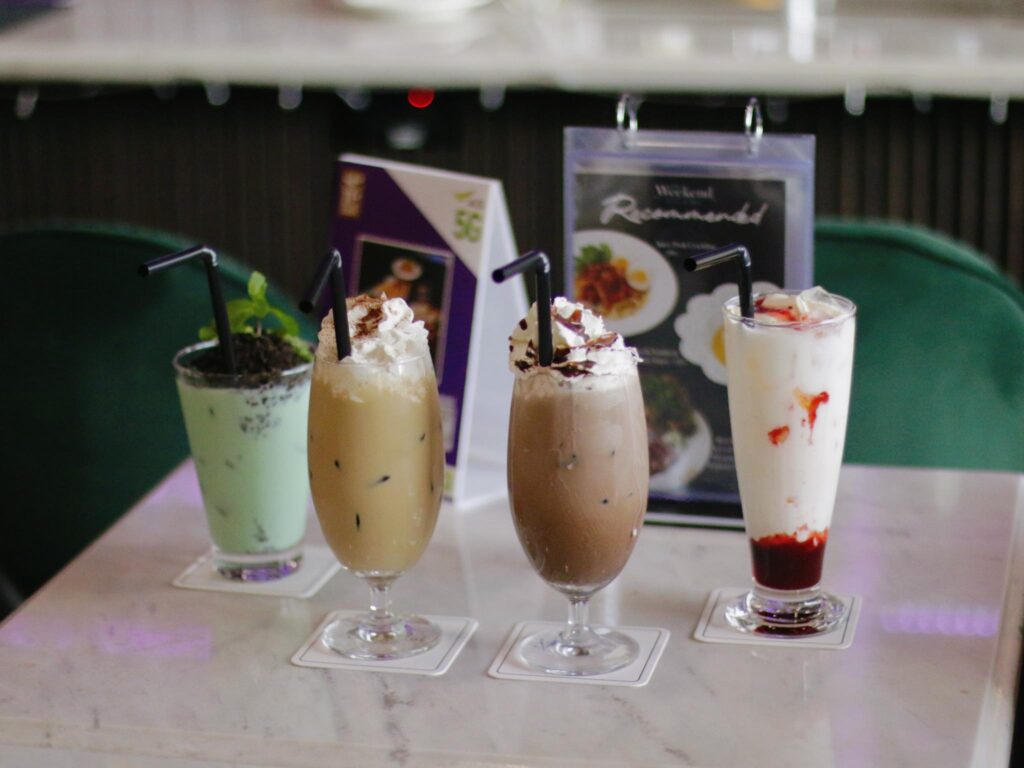 Mint Oreo (Iced)
Some people may not be used to drinking mint-flavored drinks, but I like it very much. As an unpopular mint-flavored drink, The Weekend Cafe & Bar can make it acceptable to most people. The sweet and refreshing mint flavor and The combination of sweet Oreo biscuits is very suitable for such a hot summer, refreshing and comfortable.
Tiramisu (Iced/Frappe)
Drinkable dessert! The rich coffee aroma is mixed with cream, and the taste is smooth and full-bodied. This is a cup of drink, but it applies the concept of dessert, using the recipe of dessert to make coffee, and because of the addition of chocolate, whipped cream, etc., this cup of coffee has a lot of calories. Drinking a cup in the afternoon will not only quench your thirst, Still full.
Ferrero (Iced/Frappe)
Chocolate milk is a great accompaniment to afternoon tea. As the name suggests, Ferrero has been added for a rich hazelnut flavor that perfectly complements the smooth chocolate, Milk is rich in calcium, protein and various trace elements and vitamins, known as "the closest to perfect food". Chocolate is made of cocoa, small in size, high in heat, sweet and delicious, contains antioxidants, and has a certain effect on delaying aging. Smooth taste and rich cream, who would say no to such a delicious drink?
Panna Cotta (Iced)
My favorite, strawberry puree with smooth and delicious milk, The Weekend Cafe & Bar adds panna cotta to this drink, Panna Cotta, which means "cooked cream". The name pretty much says it all about this dessert. Paired with sweet and sour strawberry puree, you will feel reluctant to drink it all, a magical drink.
Don't know where to go for dinner on the weekend? Come to The Weekend Cafe & Bar! You can pass the time here, have dinner with friends, and enjoy weekend nights.
Details
Address:At Ekkamai Lifestyle Mall Khlong Tan Nuea, Watthana, Bangkok 10110
Website:https://www.facebook.com/theweekendcafebar
business hours:10:00am – 11:00pm