Looking for a cozy afternoon tea setting? Come to Gigi Café have a delicious afternoon tea!
Gigi Café on Sukhumvit 19 features an ample parking area, bright floor-to-ceiling windows, and a breathtaking view of the outdoors. The stark contrast between the black accents and the log-colored door is striking. The interior Mediterranean décor conveys an easygoing and unpretentious vibe. The space is decked up with imaginative design, and lively music mingles with the cheerful chatter of its occupants. Nobody could say no to such tranquil afternoon. Whether you want to come in for some peace and quiet with a cup of coffee, eat some amazing food, or unwind with a cocktail after work, Gigi Café has what you're looking for.
Ravioli Carbonara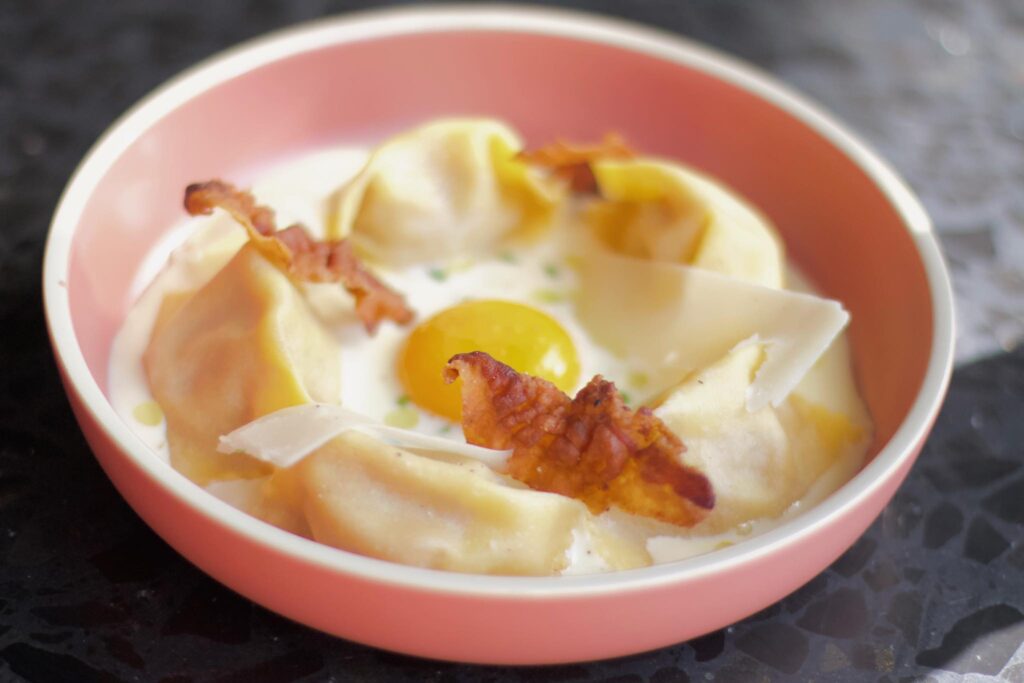 Made-from-scratch pork ravioli with parmesan cream, an egg yolk, crispy guanciale, and chives. If you're looking for a cuisine that will please both your eyes and your stomach, go no further. You will feel quite satiated after eating the crust and the delicious filling within. Ravioli Carbonara is finished off with a light and delectable Parmesan cream sauce. A nutritious and filling breakfast would be a cup of coffee and a plate of Ravioli Carbonara.
Caponata
This is a typical Mediterranean dish, originated from a stew in Sicily, Italy, with eggplant as the main material, and other mixed vegetables are added to the stew until it is almost like a sauce. You will love this dish, it can be served as a hot side dish, or served cold with biscuits or bread, it is dense and fragrant, and the sweet and sour taste is very appetizing.
Lamb Arancini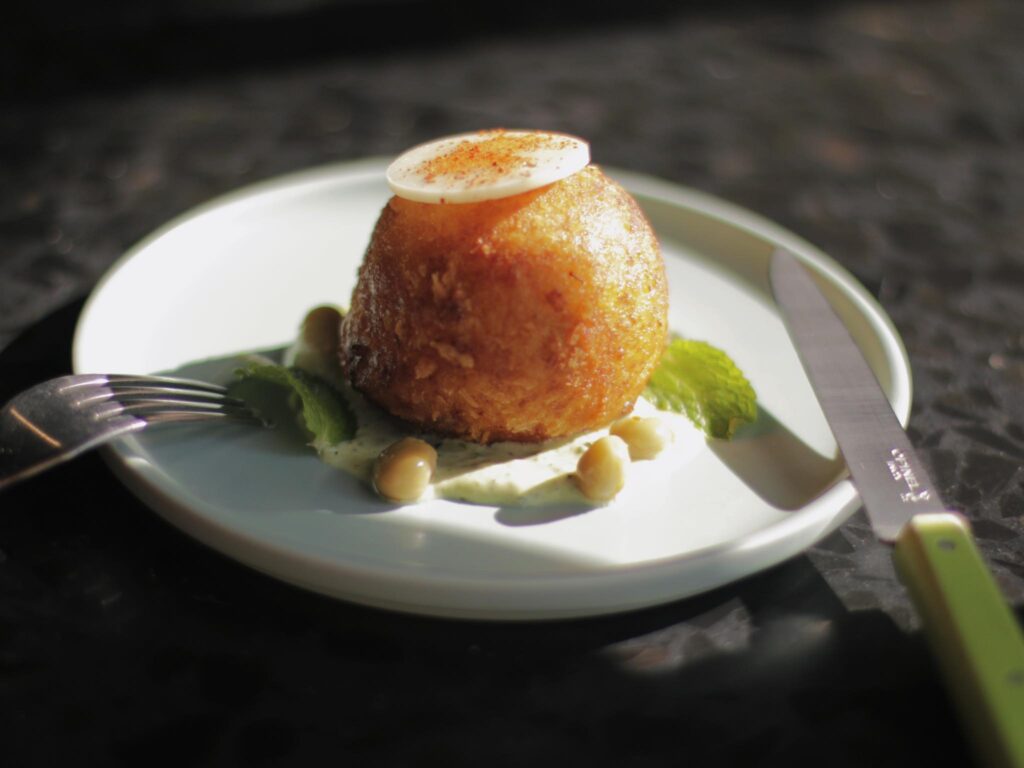 Lamb and green pea stew in a yoghurt mint sauce stuffed arancini made with saffron rice. Arancini is a famous snack in Sicily, southern Italy. crispy on the outside, rich in filling materials when cut open, with multiple flavors, you will be very surprised, such a small ball with an ordinary appearance hides a delicious mystery.
Croissant Mortadella
Mortadella is made from pork lean leg meat, which tastes delicious and has a refreshing taste. It is often eaten in buffets, and its appearance is easy to identify. It is a large piece with white pig fat particles inside. It tastes very satisfying. It is delicious and full of croissants when paired with the crispy outside and soft inside. Some cheese for added flavor, don't miss out on this delicious Croissant Mortadella.
Salmon Pancakes
This pancake is not like the typical light and airy variety; instead, it has a flexible texture and a distinct flavor. The Ricotta pancake take on a new dimension of taste thanks to the stracciatella. The sour cream and trout caviar complement each other perfectly. If you're looking for something to complement your morning coffee or afternoon tea, try these smoked salmon pancake.
Parmigiana Pizza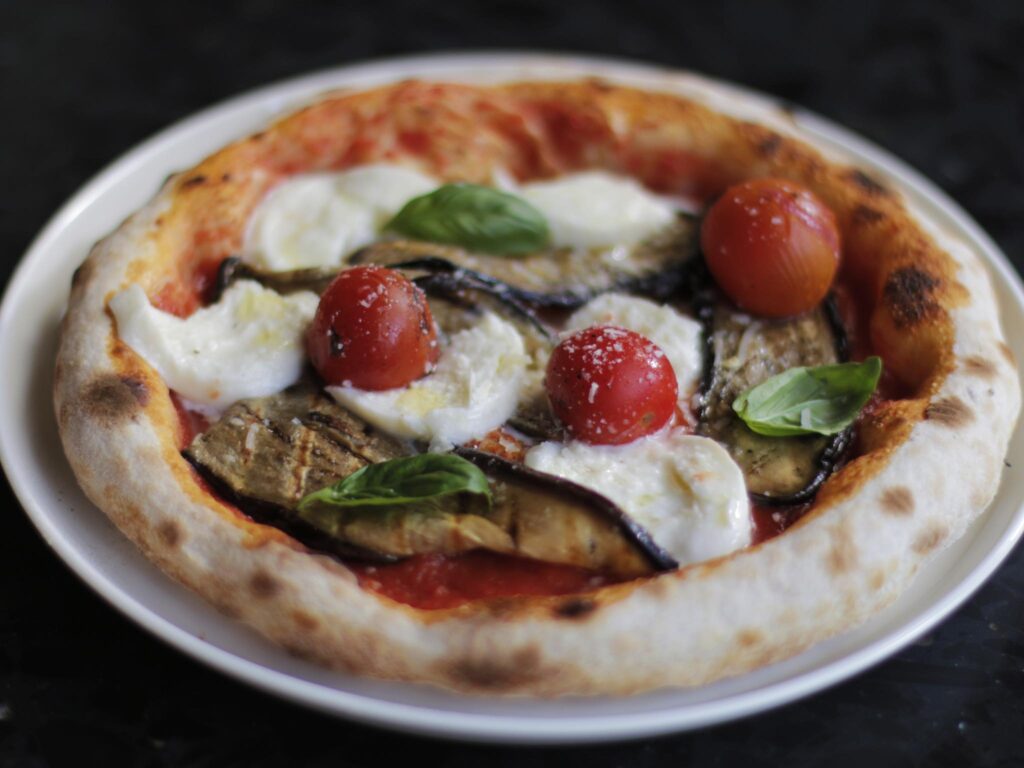 Tomato sauce, grilled eggplant, cherry tomatoes, mozzarella cheese, and lots of grated parmesan round out this dish. The Parmigiana Pizza's tomato sauce is loaded with flavorful ingredients including garlic, onion, oregano, and basil. Buffalo mozzarella and parmesan are two of my favorite cheeses, and when combined with grilled eggplant slices and tomato sauce, they create a pizza that is a must-try for every pizza and cheese enthusiast.
Lemon Tart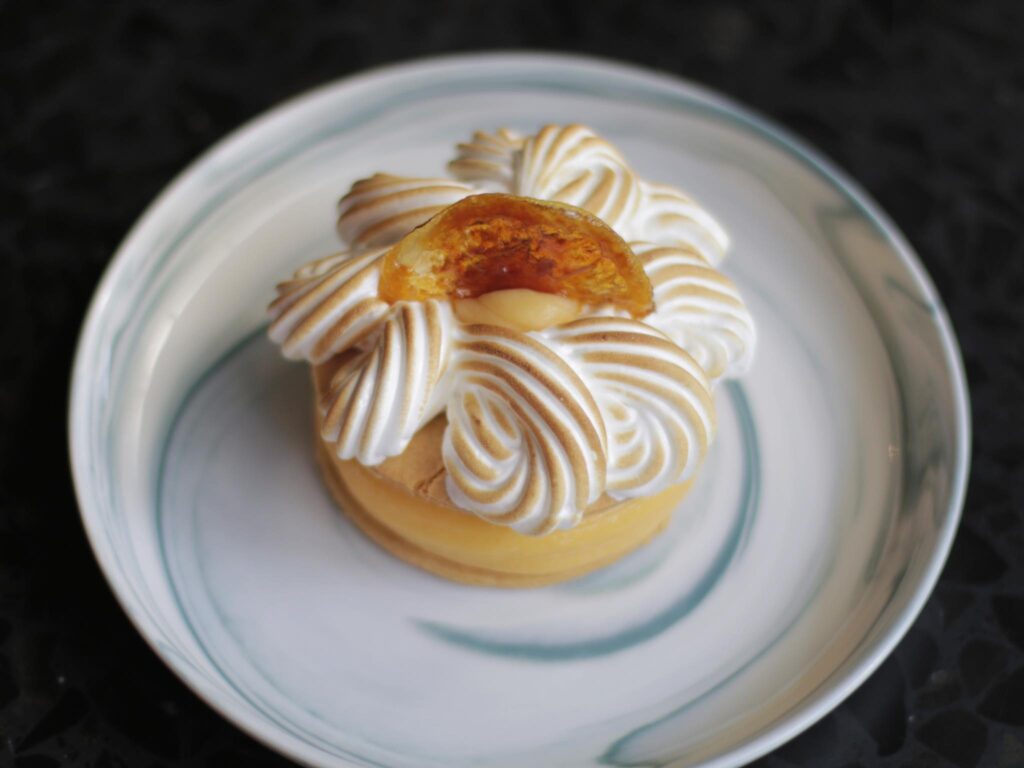 Lemon Meringue Pie has a baked meringue topping, a tart lemon filling middle, and a crispy pie crust bottom. The taste of the lemon meringue pie is very special-the meringue on the top is warm, and the lemon curd on the bottom is cool, and the sweet and sour taste like love is irresistible.
Gigi Lemonade & Bango Mango & Pretty Mezcal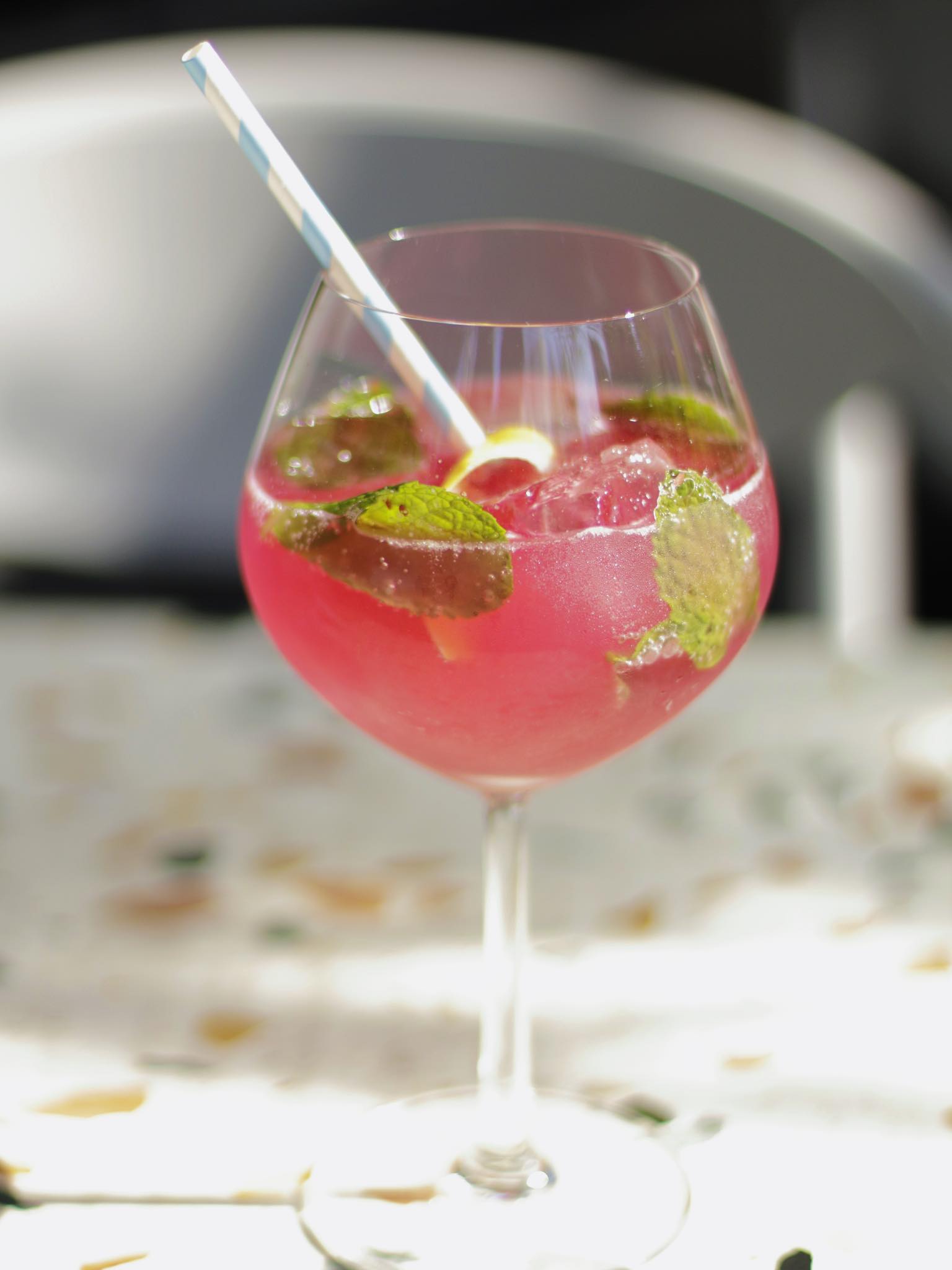 Gigi Lemonade
Like a refreshing wind on a hot summer day, a glass of Gigi Lemonade is the perfect way to cool down and feel wonderful. At first sip, the sourness may put you off, but after a few more sips, you'll be hooked on the refreshing summer flavor.
Bango Mango
I have drank many mango drinks, but this Bango Mango makes me feel very mild. Compared with the refreshment of freshly squeezed mango juice, this glass of Bango Mango is very delicate, smooth taste with sweet mango, sweet creamy top and The mango smoothie fits perfectly, you won't want to miss it.
Pretty Mezcal
Mix together the Mezcal, Absinthe, lime juice, agave syrup, fresh ginger, egg white, and dried chile. Though this beverage may sound unusual at first, its smokey mezcal flavor, herbal wine sway, and sour, powerful taste are all hallmarks of traditional cocktails.
Hot Latte & Bloody Oyster
Hot Latte
Everybody loves this traditional latte in a mug. If you're at a loss as to what to have for afternoon tea, this piping hot latte should do the trick. The little sharpness in the flavor is quite pleasant. Yummy cuisine is on the menu. An ideal way to spend the afternoon.
Bloody Oyster
Although the Bloody Oyster seems to be full of crimson blood, when made with enough tomato juice, it tastes like a refreshingly healthy beverage. Season the salad with salt, pepper, Worcestershire sauce, chile sauce, and whatever else you prefer to eat on holidays instead of breakfast. Seafood's inherent smoothness, combined with alcohol's invigorating effects, makes for a wonderfully simple, refreshing, and thrilling cocktail. He was already enjoying it before he could even start frowning.
A coffeehouse with such a laid-back vibe is appealing in today's hectic world.Let yourself slow down and come to Gigi Cafe to enjoy a pleasant afternoon tea!
Details
Address:28 Soi Sukhumvit 19, Khlong Tan Nuea, Khet Watthana, Bangkok 10110
Website:https://gigicafe-bangkok.com/
https://www.facebook.com/gigicafe.bangkok
business hours: 8:00am – Midnight