Indulge in the allure of vegetarian cuisine while also doing your part to safeguard the earth.
Located in the Charoenkrung, this eatery focuses on serving up nutritious food. What sets it apart is that it is a plant-based restaurant and juice bar that is both ecologically conscious and socially conscious. There has been an explosion of health food establishments in Bangkok in recent years. The Subject of Our Interview A third of all eateries are vegetarian, which is encouraging since it indicates that diners are seeking not only tasty cuisine but also ways to improve their health.
We visited the Bang Rak Creative District's third location. The inviting appearance of the restaurant's front is sure to catch your eye as you drive up. The white wall is reflected in the logo's clean and simple design, and some green plants are strategically placed for added ambience. Plant-based principles are at the heart of broccoli's eco-friendly philosophy. In the restaurant, enter by pushing the door down the small passageway. You'll see that the structure is rather ancient, but Broccoli made an effort to save as much of the original home as possible than than tearing it down and starting again. Broccoli's home features an original cement design, water pipe tables, a gravel patio, a lovely tree, and an industrial aesthetic. To celebrate the changing of the seasons and other occasions, a courtyard will be decorated with broccoli. Trees of a modest size are used to break up the monotony of the design.
Broccoli Quinoa charcoal burger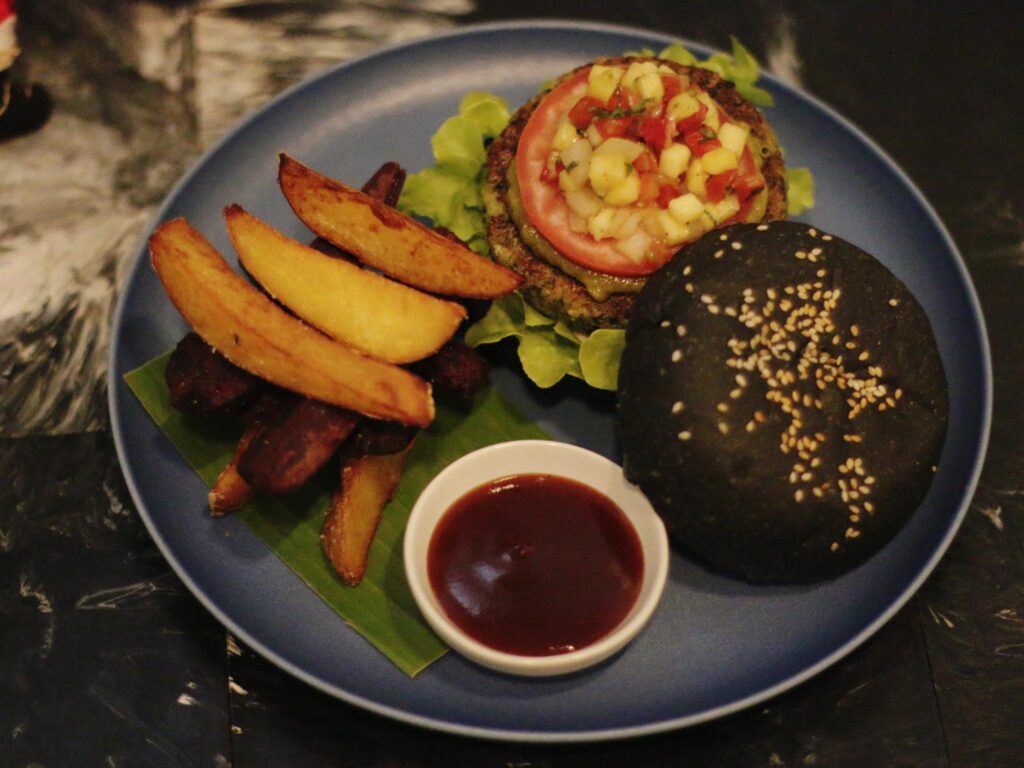 The Broccoli burger is a specialty of the restaurant, and its patties is comprised of broccoli, black and white quinoa, bread crumbs, and other ingredients. Presented on a Charcoal Whole Wheat Bun with Guacamole and Mango Salsa. The veggie patty looks nothing like a veggie burger on the outside, and Broccoli's ingenuity is not limited to the kitchen. They employed a wide variety of components and skillfully mixed them into a veggie burger that looks and smells just like a traditional beef burger, which is only mirrored in the taste.
Khao mun jackfruit
Fried jackfruit and brown rice cooked in vegetable broth make up BR's vegan take on a classic Hainese meal. Broccoli has a lot of nerve to try jackfruit fried chicken. It's a great vegetarian dinner that looks and tastes just like fried chicken, and it goes perfectly with brown rice cooked in coconut oil with mushrooms. This creative recipe is a perfect example of the versatility of Broccoli.
Cauliflower Dynamite Maki
Carrot, avocado, asparagus, thickpea, spicy cauliflower, and brown rice rolled into a sushi and topped with tapped Soya Pearls. Even though they are known for its Western and Thai cuisine, Broccoli is also making strides to modernize traditional Asian foods like sushi by making them suitable for vegetarians. Seaweed strips are used, which greatly improves the flavor. It's a new and interesting sensation to eat crispy seaweed stuffed with vegetables.
Golden MILK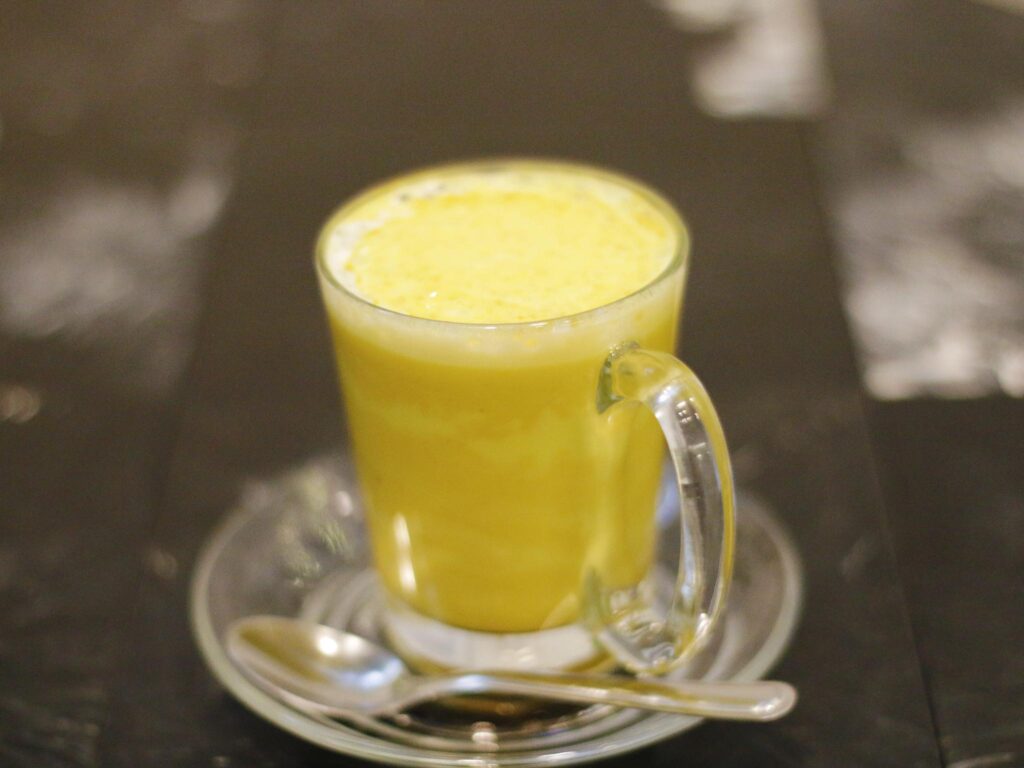 Turmeric powder, ginger powder, vanilla essence, plant-based milk, brown sugar syrup. This is a drink for women. Despite the addition of ginger powder, the flavor is rather moderate. On a wet day, drinking such a hot beverage feels really nice. Warm, pleasant, and really healthful.
KOMBUCHA TEA
A pineapple-based cocktail popular in Mexico and South America. A delightful fermented beverage with probiotic properties to promote the health of your gut microbiome. Broccoli's homemade fermented drink is located in the corridor on the second level of the restaurant. This drink, full of fermenting jars, must be tried.
Broccoli also sells its own line of eco-friendly wares, including reusable tote bags made from raw cotton, wallets made from recycled plastic, coasters made from recycled cork, and more. Just one visit to Broccoli will convince you that it is the pinnacle of modern cuisine. There is still such a thing as a healthy and inventive eatery in this day and age of the industrialized food market.
DETAILS
Address:Street, 55/6 Charoen Krung Rd, Bangrak, Bang Rak, Bangkok 10500
Website:https://www.facebook.com/BROCCOLI-REVOLUTION-105772740866746
https://bcrweb.kloud.kitchen/#products
business hours: 11:00 – 20:00
Closed every Monday