If you're feeling stuck since you can't try any new restaurants, this one will transport you to Switzerland.
Located in an alley off of Sukhumvit 20 and just across from the Windsor Hotel, this restaurant is well worth the effort it takes to find it. The peaceful look is lush with vegetation, allowing for a relaxing and refreshing environment. The parking lot is large, and the room smells faintly like teak wood; the tables are long, making it an ideal location for social gatherings. When you push open the wooden entrance and go inside, you'll be greeted with the restaurant's cozy decor: white and yellow are the store's primary colors, and the addition of red makes the space lively and ideal for hosting dinner parties.
"I used to work in many big hotels, went to many places, and finally wanted to settle down and stop traveling, so I went with my friends We opened this restaurant together."Rene said, Rene and Thomas, who wanted to strike out on their own and had spent two years traveling and preparing to open the restaurant, ran it very successfully when it first opened in 2000. Because "Chesa" means "home" in Swiss, the business strives to make its patrons, particularly those from Switzerland, feel at ease and at home.
IMPORTIERTER NÜSSLI (MÂCHE) SALAD MIT EI & SPECK & CHESA HORS-D'OEUVRE TELLER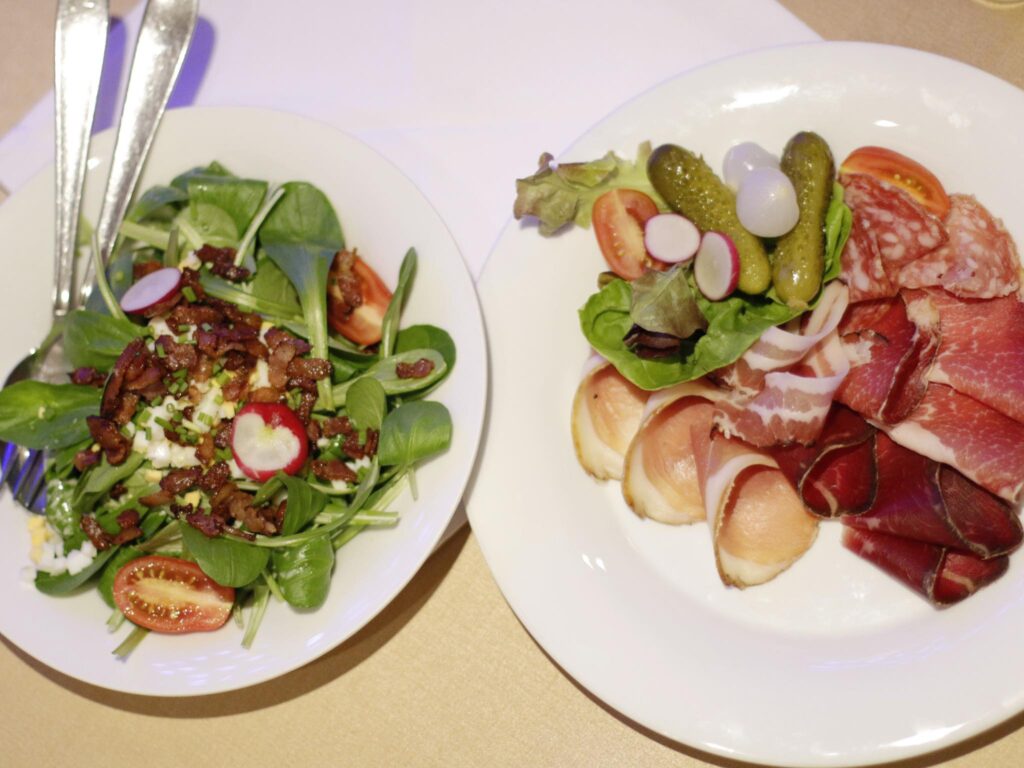 Imported lamb's lettuce salad with boiled egg, bacon on French dressing, A very good salad, different from the past, Chesa's salad uses imported lamb's lettuce, which is a salad vegetable native to Europe. There is a little bit of nutty taste, and a touch of bitterness, very delicate. Paired with chopped bacon and boiled eggs, this is a very creamy and appetizing salad.
The various Bünderteller plate at Chesa contains ham with a deep nutty flavor and smokey flavor; it's silky and melts in your tongue, making it an ideal dish for a romantic evening. I prefer the salami since the meat has a strong flavor and aroma. The flavor is the perfect balance of smoke and heat, unlike other salami that can be too intense. A excellent appetizer would include some pickled cucumbers and radish slices to cut through the richness of the main course. Do not miss out on your opportunity to sample a variety of ham tastes all at once.
THURGAUER KÄSE FONDUE
Cheeses such as Gruyere and Emmental combined with mild white wine, placed on a fondue rack and kept hot with burners, create a mild fondue that fills a room with a pleasant sweetness. Prepare a small loaf of bread, wrap the cheese tightly around the bread, and taste; the cheese should have a rich, salty and milky flavor with a hint of kirsch. As much fun as it is to make yourself, this dish should be shared.
Swiss Smoked Pork Sausage with Sourkraut and boiled Potatoes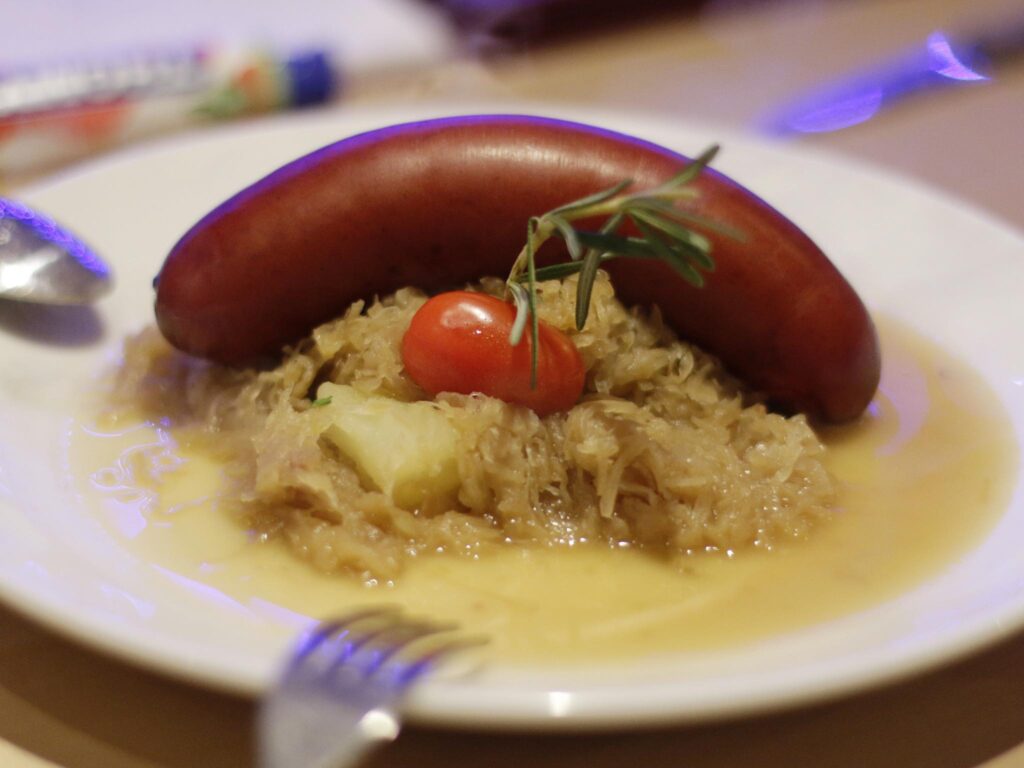 you can hardly find such an authentic Swiss dish in Bangkok. Addictive aroma, pork sausage, using pure pork meat source, genuine, reasonable golden fat and thin match, plump texture, every bite is meat, made with appropriate fat to thin ratio. With the Sauerkraut side dishes and cherry tomatoes, it is very appetizing, making people unable to stop.
KALBS GESCHNETZELTES ZÜRCHER ART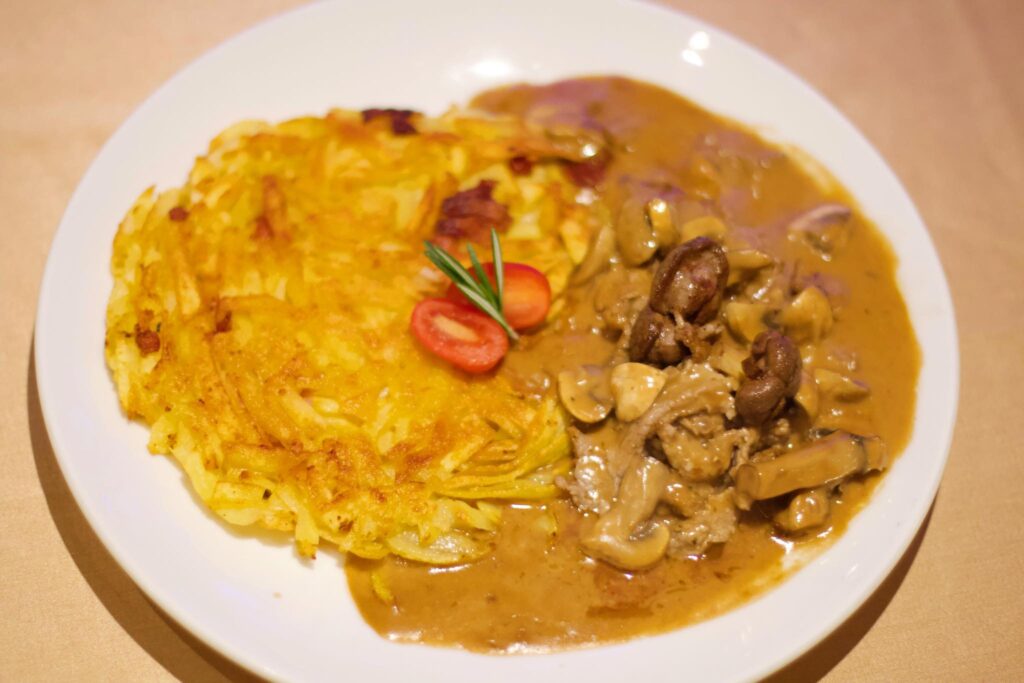 Sliced veal and kidney in a classic champignons mushroom sauce. Among the foods served today, this one is my favorite. Meat and vegetables in a sensible proportion, topped with a flavorful creamy gravy sauce, take this meal to a whole new level of taste. There's a new flavor profile because to the tender meat and crisp mushrooms. The crunchy and salty flavor of the potato shredded pancake, cooked to a golden brown, complements the soft and silky texture of the mushrooms beautifully.
When you want to have dinner with family and friends, or when you are on a date with your partner, you might as well try this restaurant, feel the exotic atmosphere, or taste Swiss specialties, paired with a glass of wine recommended by chesa, and have a pleasant evening.
Details
Address:5 Sukhumvit 20, Bangkok, Thailand, Bangkok
Website:https://www.facebook.com/chesaswiss.bkk
business hours: 11:00 – 23:00