The foundation of a healthy lifestyle, when you're sick of eating meat, why not try a straightforward but satisfying vegetarian eatery?
This vegetarian restaurant in Sukhumvit 101 is hidden in a small alley. The white and green appearance makes people feel comfortable. The outside is full of food, and the summer atmosphere can be felt between the white and green. There is a large open parking lot in the yard , very spacious. When you push the door and enter, you will see the log and white decoration. The large-scale decorative painting of rural scenery echoes the theme of vegetarian food. The warm and friendly staff will recommend the most suitable vegetarian food for you. When you want to be healthy but don't want to eat meat, you can come to this restaurant, they insist on providing "fresh homemade food" and some vegetarian ice cream, you will experience a new healthy meal.
Shitake Fried Spring Roll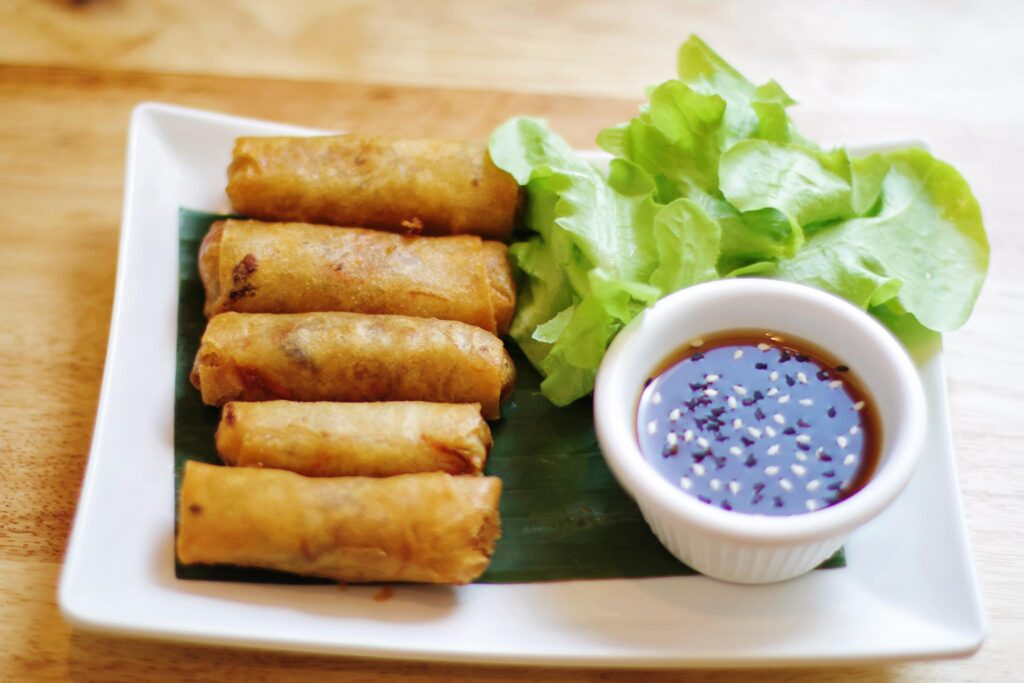 Using vegetables and vermicelli as the filling, the crispy and thin spring roll skin has a tangy aroma. Spring rolls have a beautiful meaning, which means to welcome the new year, everything is renewed, and everything grows. Putting such a beautiful spring roll with fresh vegetables makes the whole full of refreshing At the same time, the vermicelli brings a touch of q bomb, the taste is layered and full of fun, you must try the healthy spring rolls of may veggie home, it will not be too greasy, and it will not lose its deliciousness for health.
Khao Soi
Yellow curry with rice noodles, tofu, and mushrooms is a traditional Thai meal. Thai food may be as straightforward as this and yet be quite tasty. Although it seems rich, the flavor is surprisingly light. Rice noodles with a delicious curry sauce. Curry and onions add heat, while mushrooms add a subtle sweetness. The general consensus is that while it is a novel dish, it stays true to its roots. You should try this new and exciting curry.
Tom-Kha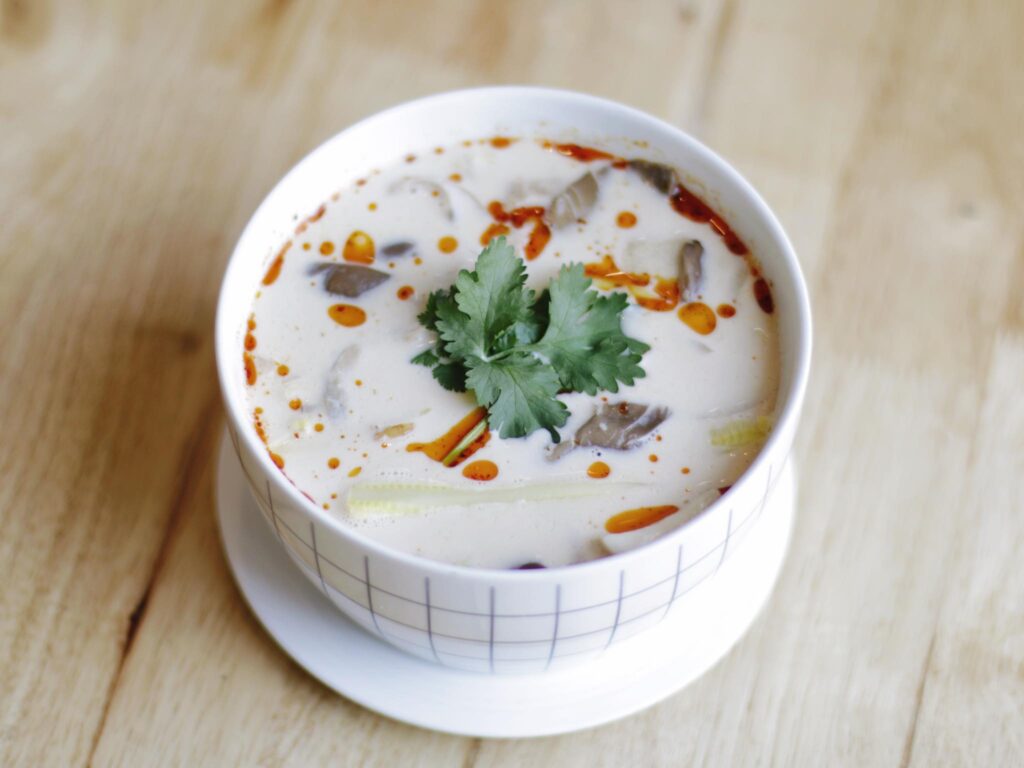 Mushrooms, rice milk, Thai cuisine with galanga soup. The hot and sour soup makes you addicted. The mushrooms full of soup are absolutely attractive to taste buds. Topped with some spicy oil, rice milk is used instead of traditional coconut milk, with It comes to refresh the taste while retaining a strong aroma. If you don't taste it carefully, you will only think that this is an ordinary Thai dish, not a healthy meal. This also proves that may veggie home can combine the most ordinary Thai food. Home cooking is healthier.
Yam-Sapp-Gai-Grob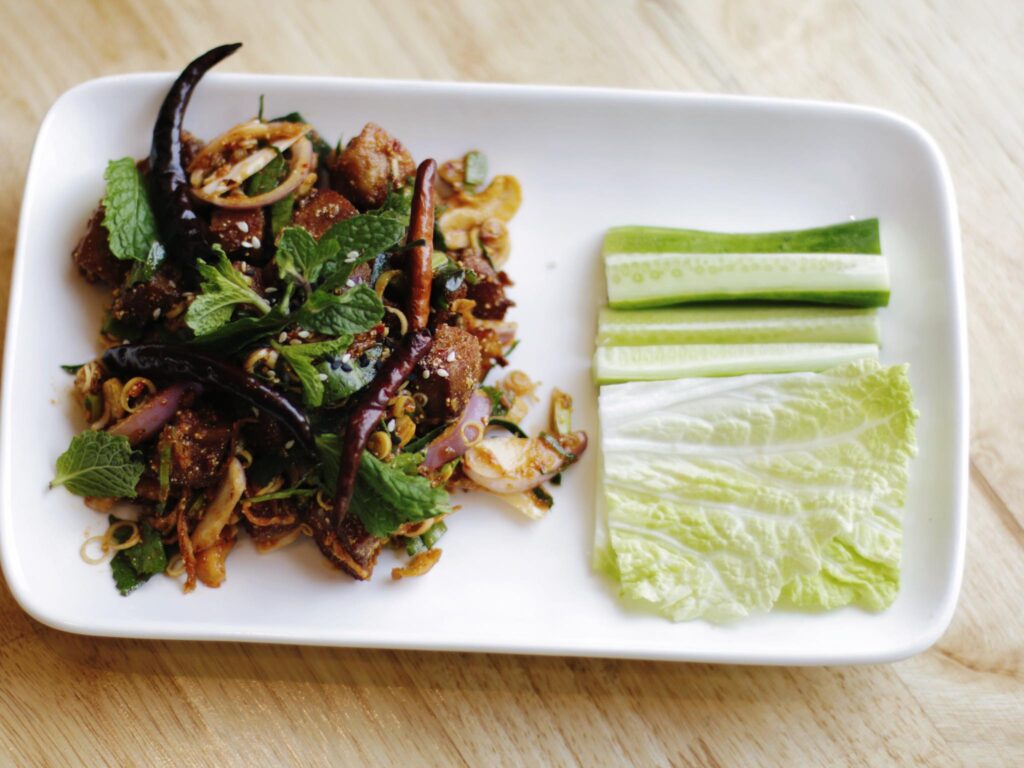 Fried Vegetarian Chicken with Cashew Nut in Spicy & Sour Sauce, from the outside, it is no different from ordinary dishes, and even tastes and tastes like real meat, you will be amazed at the innovation of may veggie home and the vegetarian Ability to make such delicious dishes, be sure to try this homely and innovative Thai dish.
Matcha Latte & Banana Chocolate
The matcha latte made of high-quality matcha powder and plant oat milk, in addition to being more refreshing, you can hardly taste the difference between it and ordinary matcha latte. The rich matcha is paired with refreshing plant milk and squeezed into the plant The creamy topping is the best choice for drinks.
May vegetarian home whipped it entirely, and the result smells and tastes like a thick chocolate milkshake thanks to the chocolate's density, the perfume of bananas, and the flavor of vegetable oat milk. It's too sweet to be a drink, but it has some dessert undertones. Indeed, chocolate mousse is a delicious drink. Yeah, that definitely grabs your attention.
Although the address of may veggie home is a bit far from the city center, it is in a quiet alley, but here you can enjoy delicious food and quiet time. The portions are healthy and delicious vegetarian restaurants with reasonable prices. May veggie home also has some Delicious vegan dessert, since I missed it this time, must try it next time. If you are vegan, you must try it, if you are not vegan, try its innovation Vegetables and vegetarian dishes can also make meat delicious!
Details
Address:738 Sukhumvit101, Between Punnawithi 20-22, Bangkok, Thailand, Bangkok
Website:https://www.facebook.com/mayveggiehome
business hours: 10:00 – 21:00
Closed every Monday