The greatest place to enjoy an afternoon tea because of its spotless interior and fragrant coffee.
The Ekkamai neighborhood is home to the visually appealing BGA coffee shop. When walking past, you can't help but want to stop in for a seat. Taking stunning photographs in this coffee shop is a breeze. For their minimalist style, see Decorated with wooden tables and chairs, wide panes of transparent glass, and adequate lighting, this space proves that any photograph taken there will be of the highest quality. If you don't feel like soaking up the sun, there is a garden hall within the shop where you may relax in peace.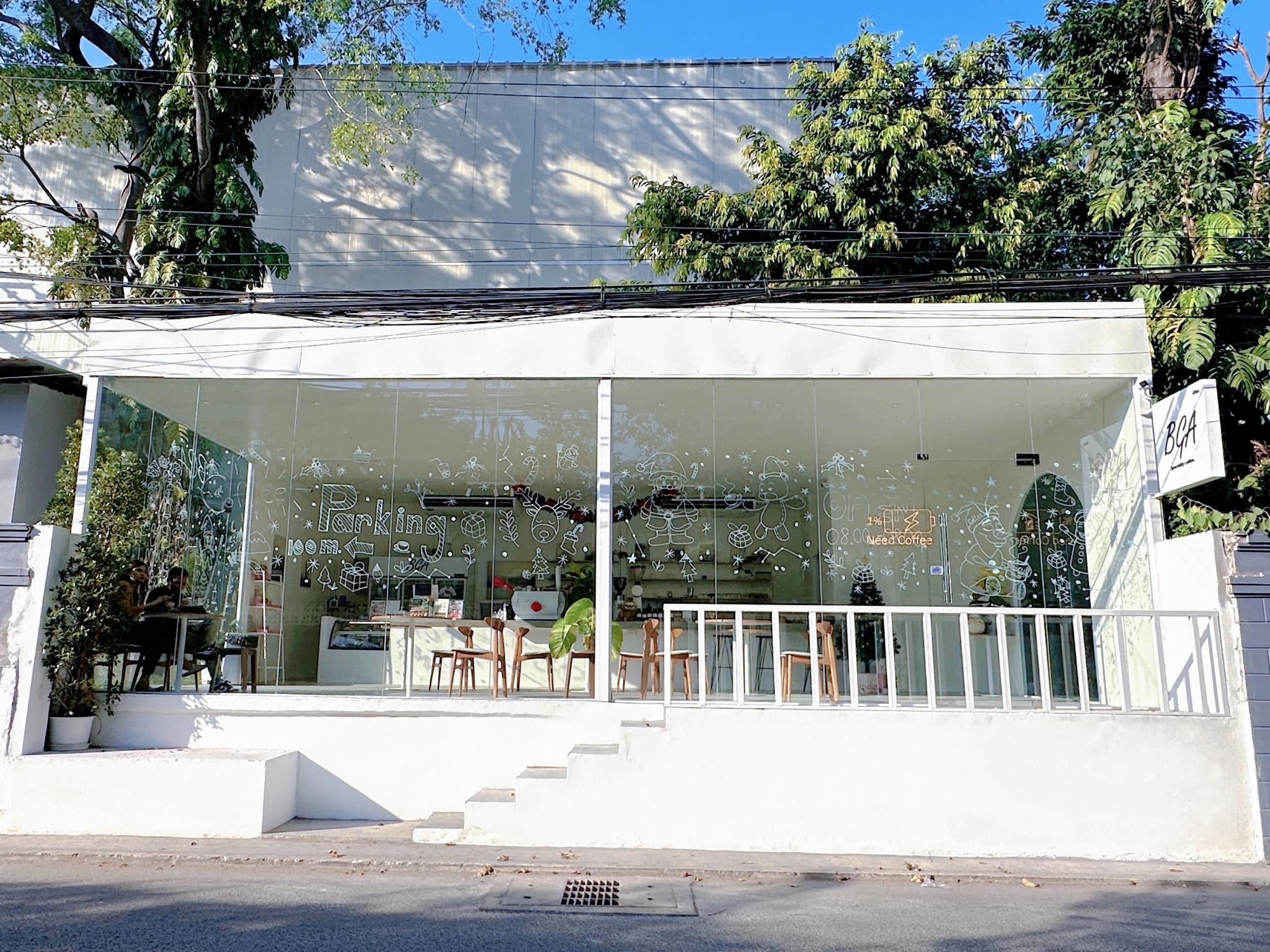 It has only been three months since this coffee business first opened. The proprietor informed us that he and his pals are co-owners of the coffee business. Their name Bank and Em together form the acronym BGA. The owners of this coffee shop are passionate about coffee and wanted to share that passion with the public by providing them with access to high-quality coffee beans and beverages. They have amassed a sizable collection of single-origin beans, and they are also fond of purchasing a variety of coffee beans from all over the world so that they may offer their own unique blend to their clients. They have the patience of the saints and the enthusiasm of a lifetime for coffee.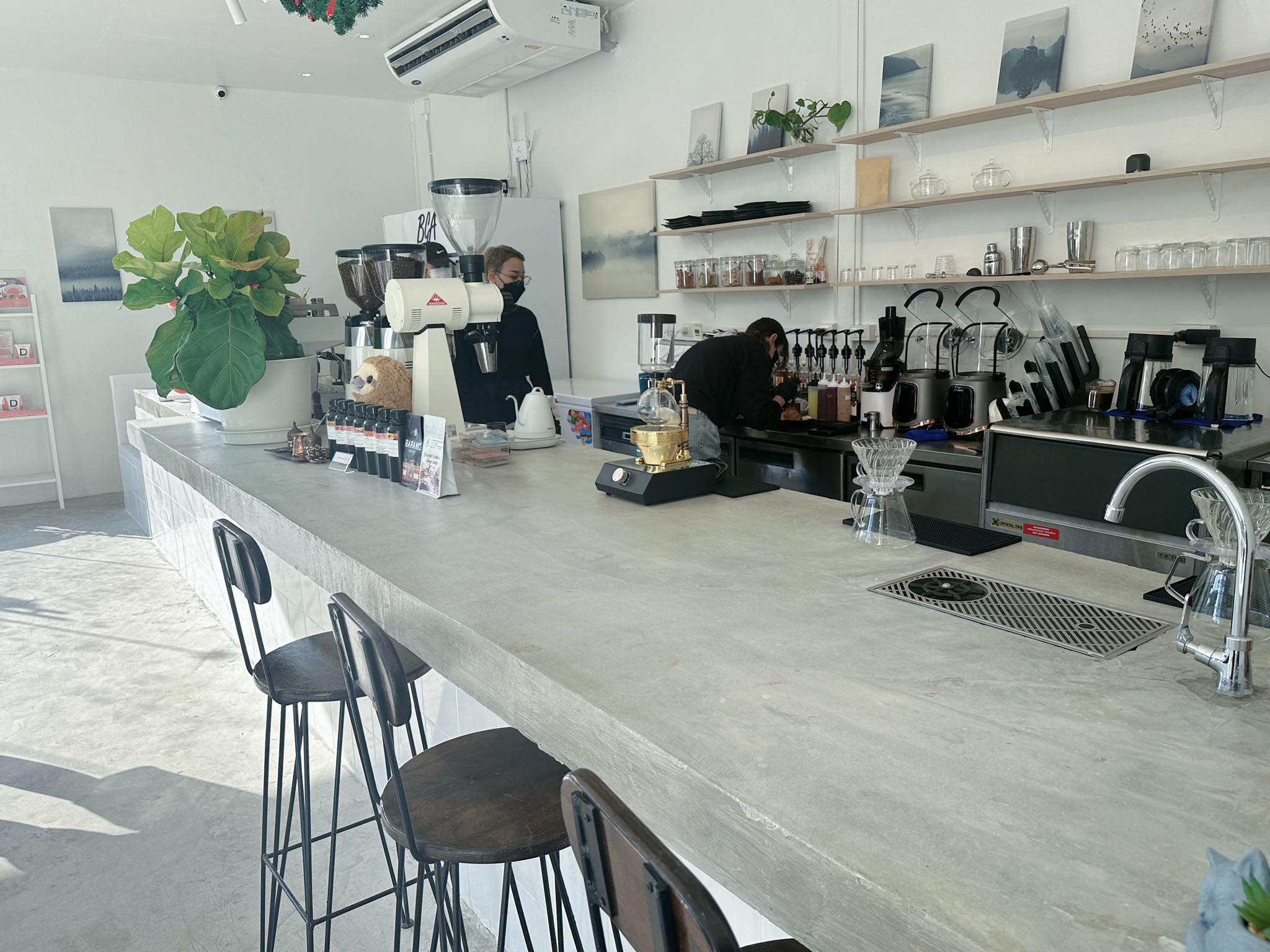 Regarding the menu, they offer a lot of different coffees for coffee lovers, but they also have decaf drinks, so that people who don't like coffee can enjoy the cozy atmosphere of this shop, and they also provide croissants, you can Serve as an afternoon tea with coffee and beverages, or as an exquisite gift for family and friends.
Flat white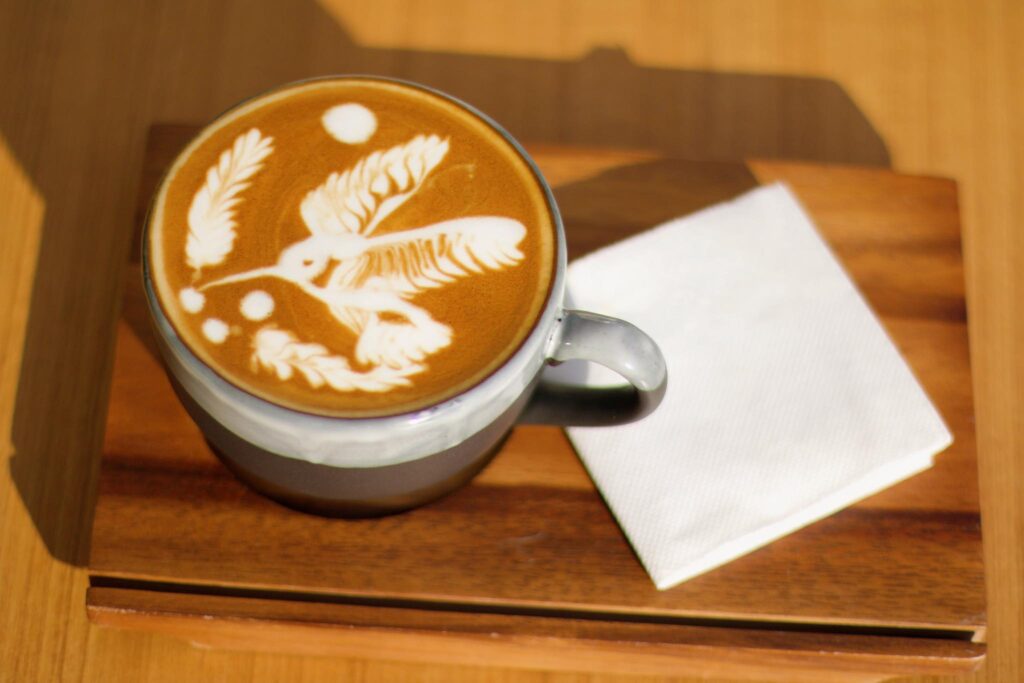 The BGA coffee shop steams the milk foam until it is dense, sweet and smooth, and slowly pours it into the coffee, and in this way, a cup of rich and sweet flat white is created. The New Zealanders are credited with inventing this coffee, a low-milk concoction that's full-bodied and full-bodied with a light, creamy foam. At the end, there is a delicate latte art on a piece of coffee, which has a delicate and long-lasting taste.
Latte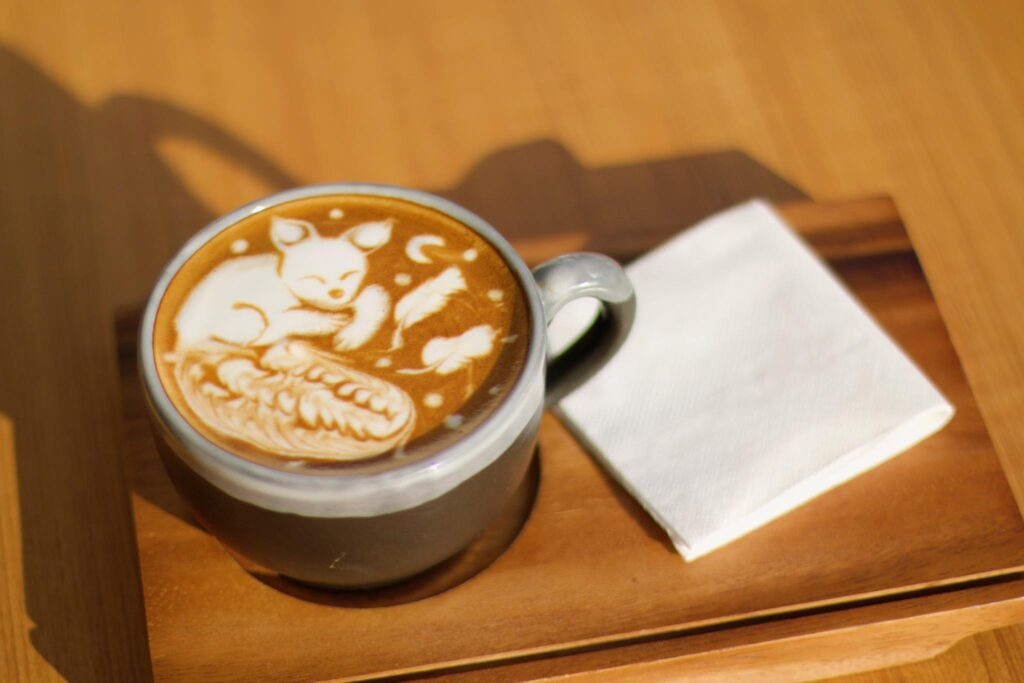 "I'm not in a café, I'm on my way to a café," said a musician in Vienna. The air in Vienna is always filled with the smell of music and latte. When you taste this cup of latte, you will feel the aroma of chocolate and nuts. The lovely latte art shows the skill of BGA barista. The rich and mellow coffee tastes smooth. Coffee lovers must not miss it.
Butter Scotch
Because from a visual point of view, the surface of the whole cup of coffee is covered by the thick Espresso fat, which looks a bit dirty, hence the name Dirty.
When making Dirty, since Espresso is directly poured into the cup, Crema is preserved intact, so you can smell the strong aroma and taste the strong flavor of Espresso when drinking the first sip, and you can feel the combination of hot condensed milk and cold milk. Double taste, every sip down, you will taste more milky and sweet, very wonderful, so it is not recommended to stir during drinking. BGA puts caramel and butter biscuits, which makes this cup of coffee full of aroma of caramel and butter, adding a lot of flavor.
Oreo croissant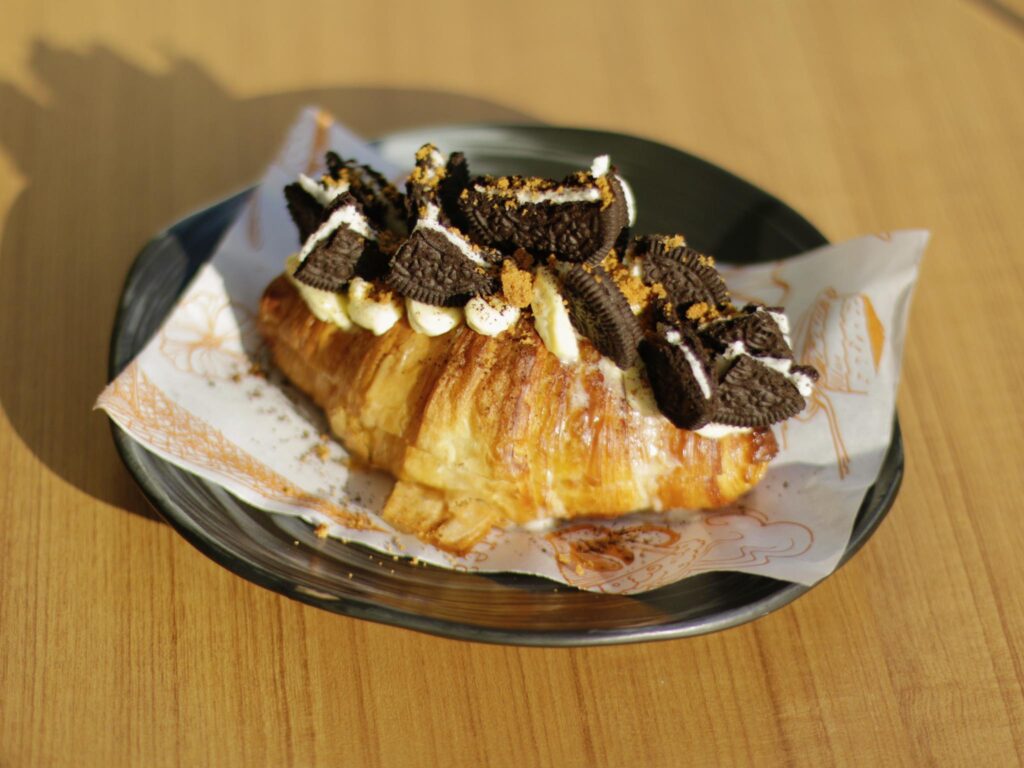 Golden and crispy on the outside, soft inside, the croissant is the best choice to match with coffee. The combination of sweet buttercream and Oreo is very sweet. When you drink a sip of bitter coffee, take a sip of sweet croissant, It balances the bitterness of coffee and the sweetness of croissant, a very pleasant afternoon tea set.
Chocolate croissant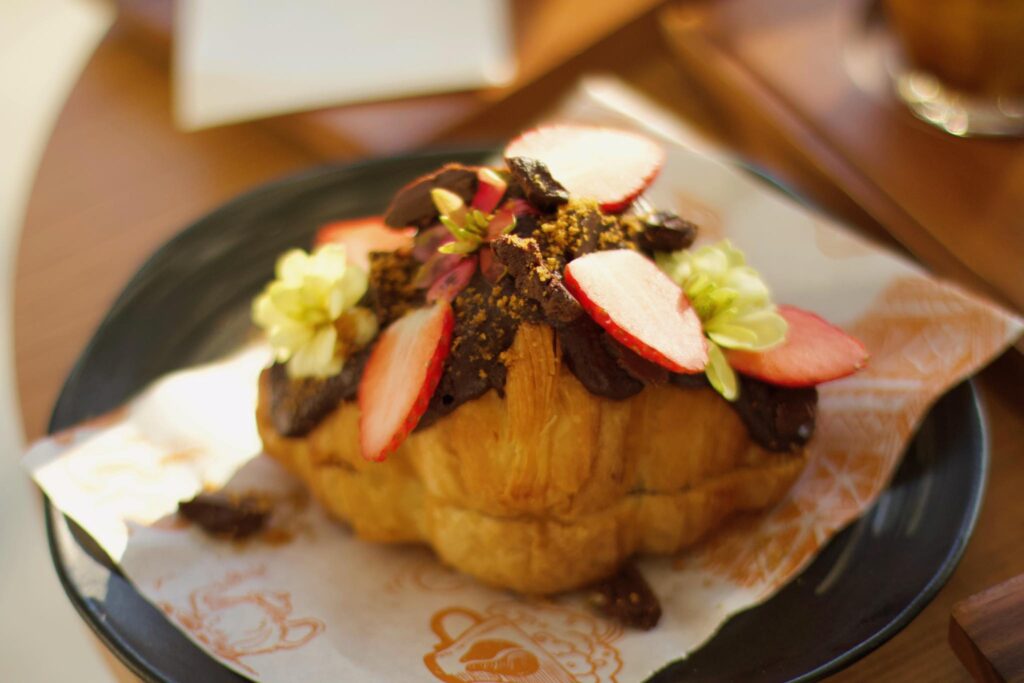 Fragrant chocolate and crispy croissants, dotted with some fresh strawberries, smooth and rich chocolate hidden in layers of meringue, bringing multiple tastes, not too sweet, suitable for a cup of decaffeinated drink Taste with it, a heaven for chocolate lovers, occasionally with sweet and sour strawberries in it, so you can't stop.
Visit BGA Specialty Coffee! Whether you're looking to relax, snap some stunning shots, catch up with friends, or have a good time, BGA is the place to be.
Details
Address:83 8 Kasem Phanitchayakan Alley, Khlong Tan Nuea, Watthana, Bangkok 10110
Website:https://www.facebook.com/BGASpecialtyCoffee
business hours: 8:00 – 20:00