Cholos, a once humble food truck roaming the bustling streets of Sukhumvit, has now found its permanent abode within Commons Thonglor. This expansion marks a new chapter for Cholos, bringing their unique brand of LA-inspired Mexican cuisine to discerning diners. With a menu that tantalizes taste buds and an extensive selection of tequila and mezcal, Cholos Thonglor is a haven for those seeking an authentic and satisfying culinary experience. Join me as we traverse through the flavorsome offerings of this Mexican gem.
Tasting Notes: Tuna Tostada
Embarking on our culinary journey, we commence with the Tuna Tostada, a marriage of tender tuna tartar and creamy avocado resting atop a perfectly crispy tostada. The dish is elevated with hints of soy and fresh lime, amplifying the freshness of the ingredients. A touch of chipotle mayo adds a subtle kick that complements the ensemble flawlessly. This refreshing appetizer serves as an invigorating prelude, awakening the senses and paving the way for the feast to come.
Tasting Notes: Mezcal Shots
For those seeking a unique libation, Cholos presents an impressive selection of mezcal shots. Each shot offers a fleeting moment of roughness that quickly surrenders to a smooth and nuanced journey on the palate. These mezcal shots, far from the realm of inexpensive tequilas, boast complexity and depth, making them a worthy accompaniment to the vibrant flavors found throughout the menu.
Tasting Notes: Gringa Al Pastor
Prepare your taste buds for a flavor explosion with the Gringa Al Pastor, an unmissable gem on the menu. This tantalizing creation features tender al pastor meat, succulently sweetened by pineapple juice, and enveloped in a harmonious blend of cheese, tomatoes, slices of pineapple, onion, and a sprinkle of coriander. Each bite showcases the skillful combination of textures and flavors, delivering a taste sensation that transcends mere satisfaction. Paired with your favorite libation, this culinary marvel is a true testament to the culinary prowess of Cholos.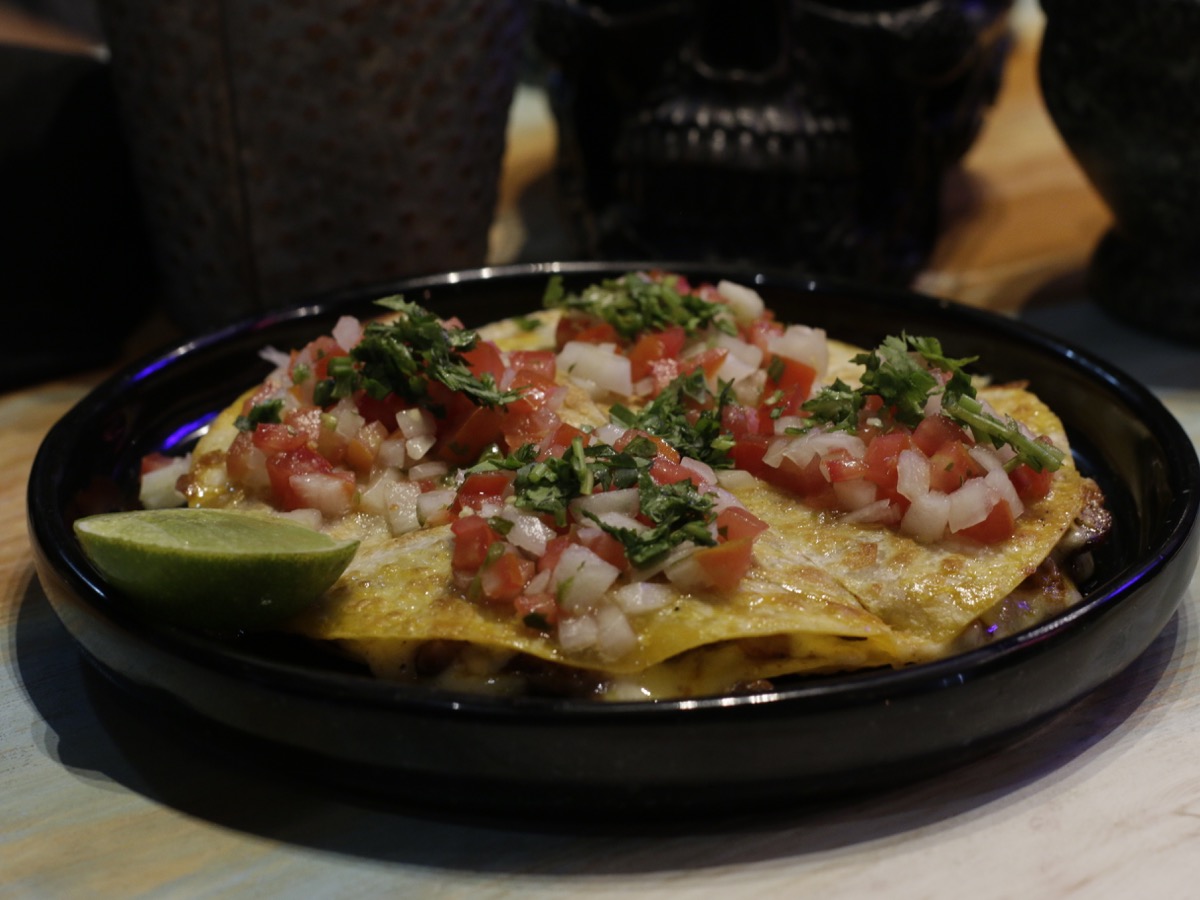 Tasting Notes: Rib Eye Taco Set
Indulge in the remarkable Rib Eye Taco Set, a dish that promises an extraordinary symphony of flavors and textures. The centerpiece is the creamy rib eye, cooked in two distinctive ways: first grilled to perfection for a smoky char, and then seared in a seething hot cast iron skillet to create a tantalizing caramelized exterior. This artful combination is accompanied by caramelized onions, scallions, guacamole, and a hint of lime, resulting in an unforgettable taco experience. With every bite, the succulent meat, intermingled with the accompanying ingredients, imparts a delightful dance of flavors that will leave you craving for more.
Tasting Notes: Queso Fundido
For those seeking a comforting dish that oozes warmth and indulgence, look no further than the Queso Fundido. A melange of hot, swirling cheese and savory chorizo meat, this dish emanates robust character with every spoonful. The addition of lime and salsa adds a delightful tang, balancing the richness and elevating the dish to new heights. Be sure to savor each bite and allow the flavors to envelop your palate, creating a moment of pure gustatory bliss.
Tasting Notes: Flan and Tiromasu
Cholos excels not only in savory delights but also in delivering a memorable sweet ending to your dining experience. The Flan, enriched with the addition of miso, presents a velvety texture and a luxuriously rich taste. It is an irresistible dessert that will have you relishing every spoonful, unable to resist its creamy allure. Equally captivating is the Tiromasu, an innovative twist on the classic Italian tiramisu. With the secret ingredient of mezcal, this dessert boasts a delightful interplay of coffee bite and the unique essence of the noble spirit.
Final Thoughts: A Culinary Haven in Thonglor
Cholos Thonglor extends an invitation to savor the vibrant tapestry of LA-inspired Mexican cuisine within the vibrant heart of Bangkok. With their extensive selection of tequila and mezcal, the experience is further heightened, providing the perfect libations to accompany your gastronomic journey. Whether you're seeking a light bite or a feast fit for a fiesta, Cholos' diverse menu offers something for everyone. Immerse yourself in the shared plate philosophy of Commons Thonglor, and allow Cholos to transport you to the streets of LA with each remarkable dish. Make sure to indulge in their frozen margarita for a truly refreshing conclusion to your visit. Cheers to an unforgettable dining experience at Cholos Thonglor, where the spirit of Mexico dances on your palate.
Facebook : https://www.facebook.com/cholosbkk