Come to Makan Makan for delicious cuisines and good moments, and enjoy true Malaysian and Nanyang taste.
Makan Makan, located on Sukhumvit Soi 16, has a simple black and white appearance, and the outdoor green plants are perfectly established, so that black and white does not look dull, but makes people feel quiet and cozy. There is a small dining area outdoors, where you can sit and enjoy the evening breeze of Bangkok, enjoying Malaysian cuisine to your heart's content. Walking into the room, it is completely different from the black and white outside, with log and white decorations, reflecting a warm and comfortable atmosphere. There is a long table on the second floor, which is very suitable for family dinners or gatherings of friends. On the wall are many photos of New Zealand, photographed by the owners daughter, as well as a large mirror that makes the space appear larger.
Makan Makan means "Let's go eat" in Malay, the language of the Malay Archipelago, and is the name of a trendy, upscale Eurasian eatery. The menu is based on the rich culinary legacy of Eastern cuisine with Western influences left behind by the Portuguese traders who traded from Phuket to Indonesia in the 16th century. The restaurant serves brunch and lunch at reasonable prices throughout the day, and transforms into a warm and inviting bar and restaurant in the evening. There's a good reason why Asians adore the food of Penang: it's a fusion of the flavors and techniques that draws from many different cuisines, including those of India, Thailand, China, Malaysia, and others.
MAMAK MEE GORENG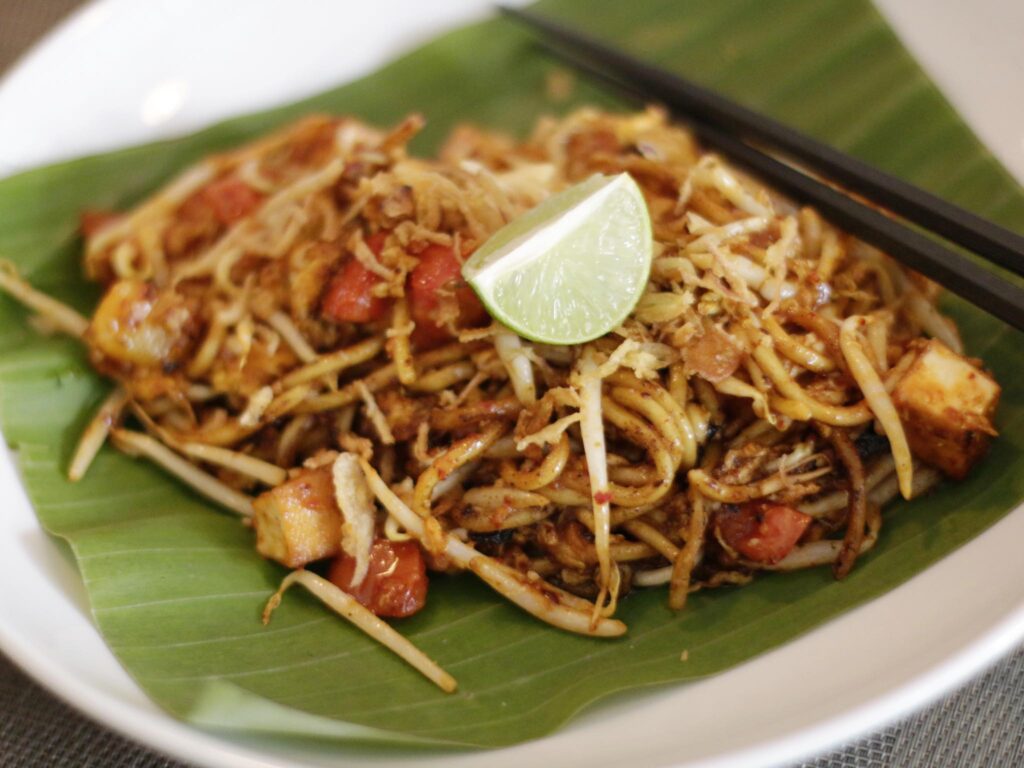 Yellow egg noodles with fried tofu, potatoes, and bean sprouts in a sweet and spicy sauce. lettuce shreds and fried shallots as a garnish.The fried noodles are full of wok hei, because they use a high fire, and stir-fry the noodles quickly, until the noodles are soft and moderate before serving. The chef knows how to make his fried noodles smell great. The beginning has a bouncy, non-sticky feel, and the invigorating flavor of scrambled eggs and bean sprouts will have you hooked.
PENANG CHAR KOAY TEOW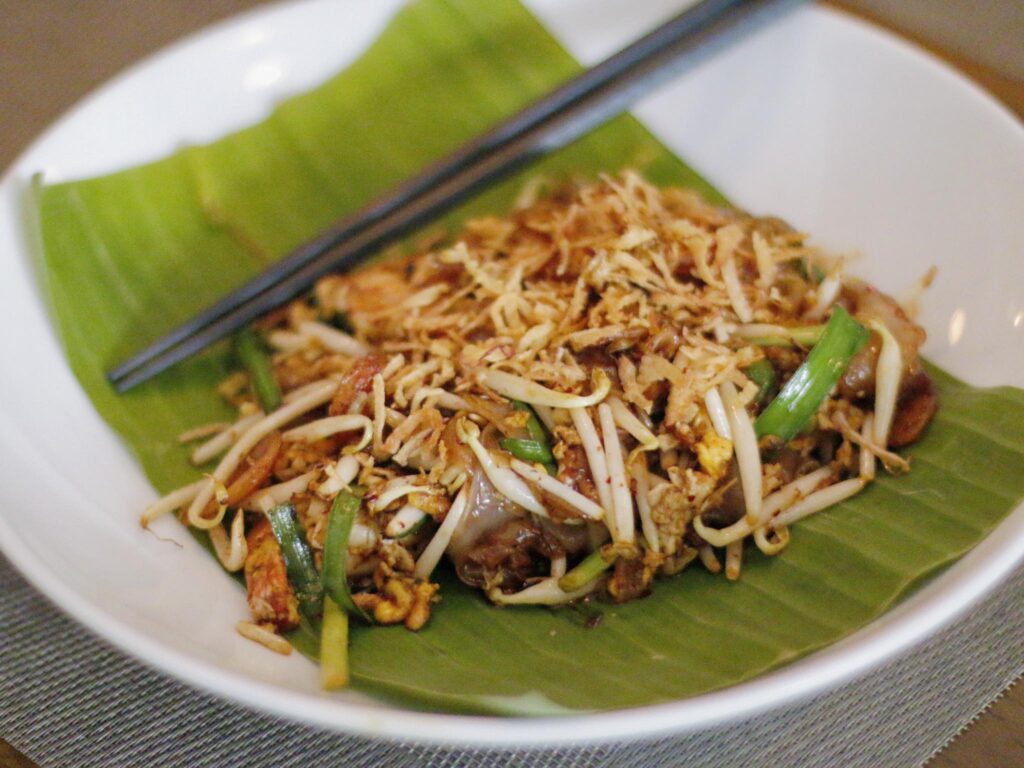 Shrimp, Chinese "lap cheong" sausage, egg, bean sprouts, and chives are stir-fried with flat rice noodles and a smokey soy sauce mixture.Makan Makan does not use dark sweet soy sauce, but uses smoked soy sauce. The fried rice noodle is lighter and more salty. You won't want to miss such delicious PENANG CHAR KOAY TEOW.
MAKAN MAKAN SIGNATURE FRIED RICE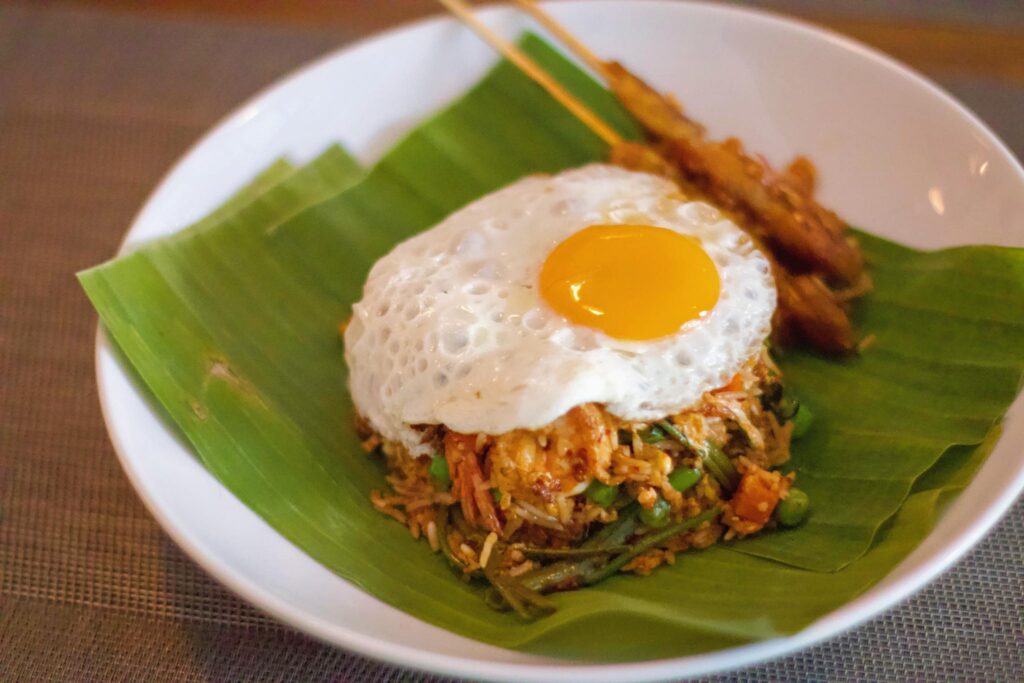 Vegetable, egg, and Chinese sausage bits stir-fried with rice and a spicy paste. Chicken satay and a fried egg on top, served.Every grain of rice is very refreshing, topped with Makan Makan's homemade spicy spice sauce, served with satay chicken skewers, it is really delicious in the mouth. It is unforgettable to eat, and it is full of praise.
Devil Curry ('Debal curry')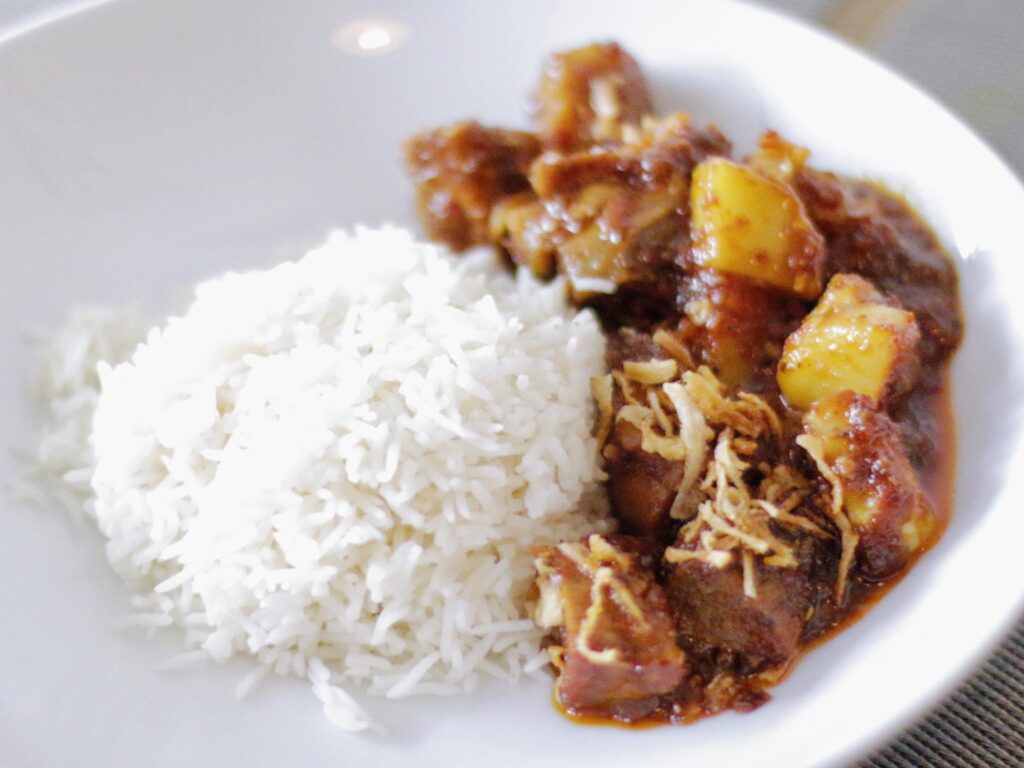 Makan Makan's Eurasian family recipe of pork cooked in a blend of mixed spice, chilli and vinegar. White rice, which has a pleasant aroma, is used as a side. People's appetites will be piqued by the combination of the dish's aromatic and spicy flavors with the extremely good pork, which can be crushed in one mouthful.
Penang Hokkien Prawn Mee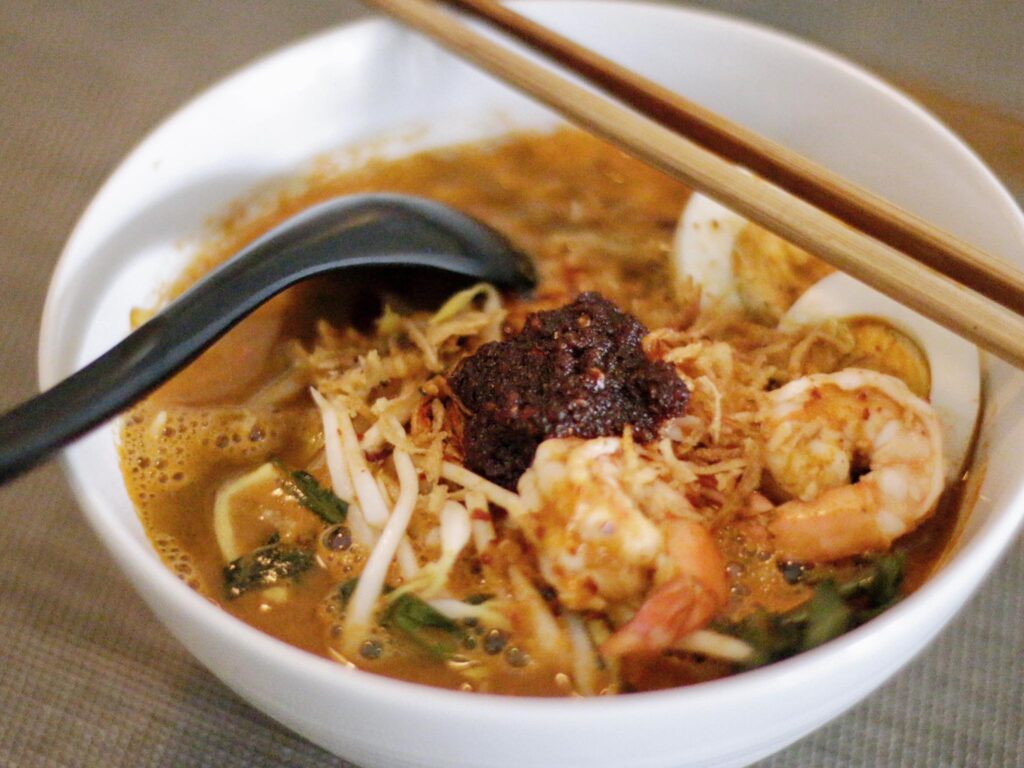 Yellow egg noodles and rice vermicelli in a savory prawn broth with hard-boiled egg, shrimp, pork, bean sprouts, and water spinach. Hokkien mee, or prawn noodles, is a popular Penang specialty. The shrimp shells are the key component in a tasty soup that also includes water spinach, eggs, noodles, and homemade chili. Makan Makan's sweeter soup, produced with fresh shrimp shells and huge bones, is complemented nicely by the restaurant's signature spicy sauce.
Come to Makan Makan to experience the food culture of Malaysia! Tastes that are similar but different from Thai food, Penang's long food culture and Malaysians' love and pride in their own food.
Details
Address:168/1 Sukhumvit Soi 16, Khlong Toei, Khlong Toey, Bangkok, 10110
Website:https://makanmakanbkk.com/
https://www.facebook.com/makanmakanbkk/
business hours: Tuesday – Saturday : 11AM-2PM, 5-9PM
Sunday 11AM-2:30 PM
Monday Closed