There's a big hole in life sometimes, but we can just look at the sweet parts
The roll call of "DROP BY DOUGH" means a combination of another word "drop by" and "dough" derived from "visit", it means welcome to sit down and taste our donuts, you can enjoy the leisure time in the store Atmosphere, light music, fragrant coffee and delicious donuts, spend happy time with family and friends.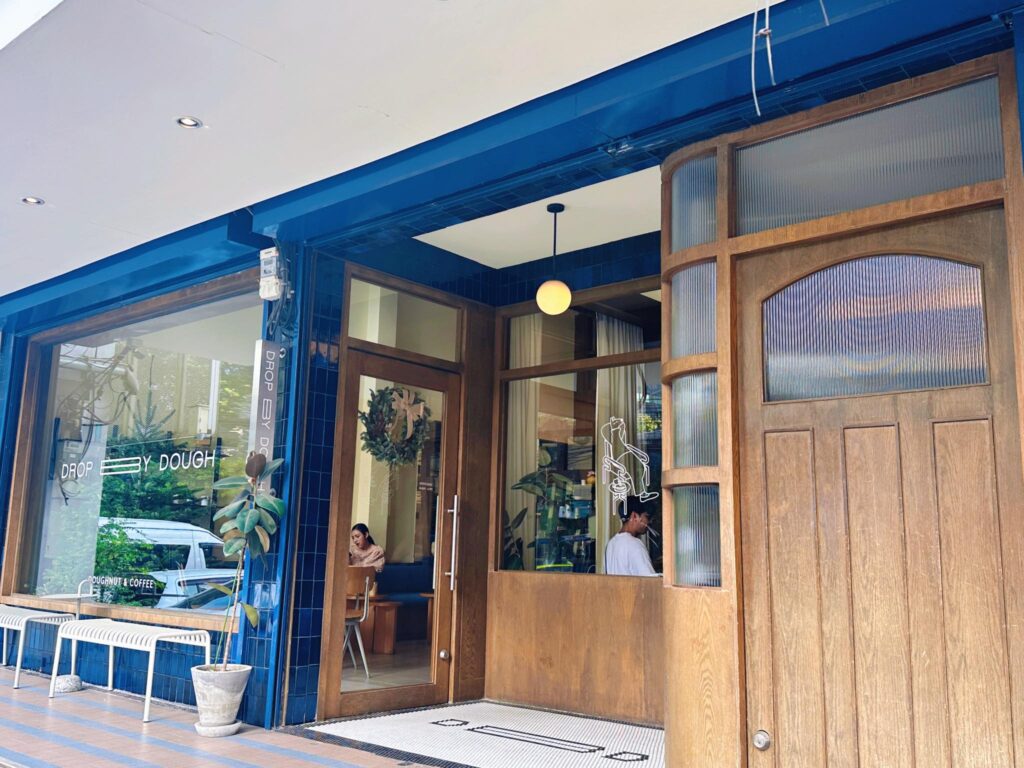 We came to DROP BY DOUGH's first store in Sukhumvit. The theme is donuts and coffee. At present, three branches have been opened, and the other two are donuts and ice cream, donuts and wine.Sukhumvit The manager Jidapa R. told us that they plan to open six branches in Thailand and plan to expand overseas.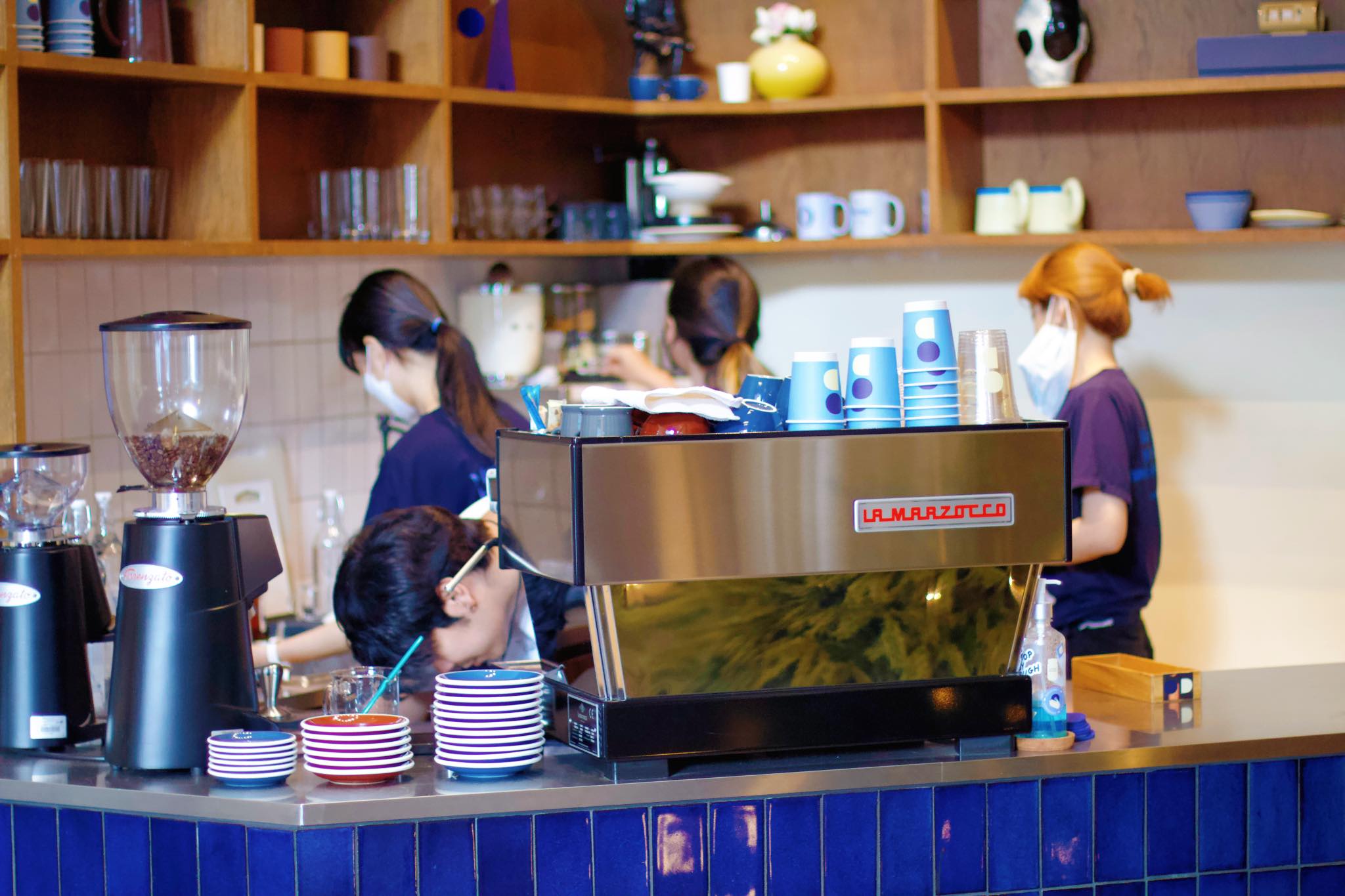 The owners of DROP BY DOUGH are two young people, Oat-Narongrit Sritalanon and Oat-Chalermpol Akarapinyokul, they not only have the same name, they also have the same goals and hobbies, "they traveled to Copenhagen together and found that there are many donut shop, that gave them the inspiration to open a donut shop in Thailand" introduced by Jidapa R. They love Scandinavian countries very much, they will Scandinavian Lines, shapes, and colors are the design inspiration for the donut shop. When you walk into DROP BY DOUGH, you will find that blue and dark wood colors can be combined so perfectly. The minimalist line furniture is placed in the right place, and you can Seeing that the open bar is clean and bright is why DROP BY DOUGH can attract so many new and returning customers.
GRILLED HAM CHEESE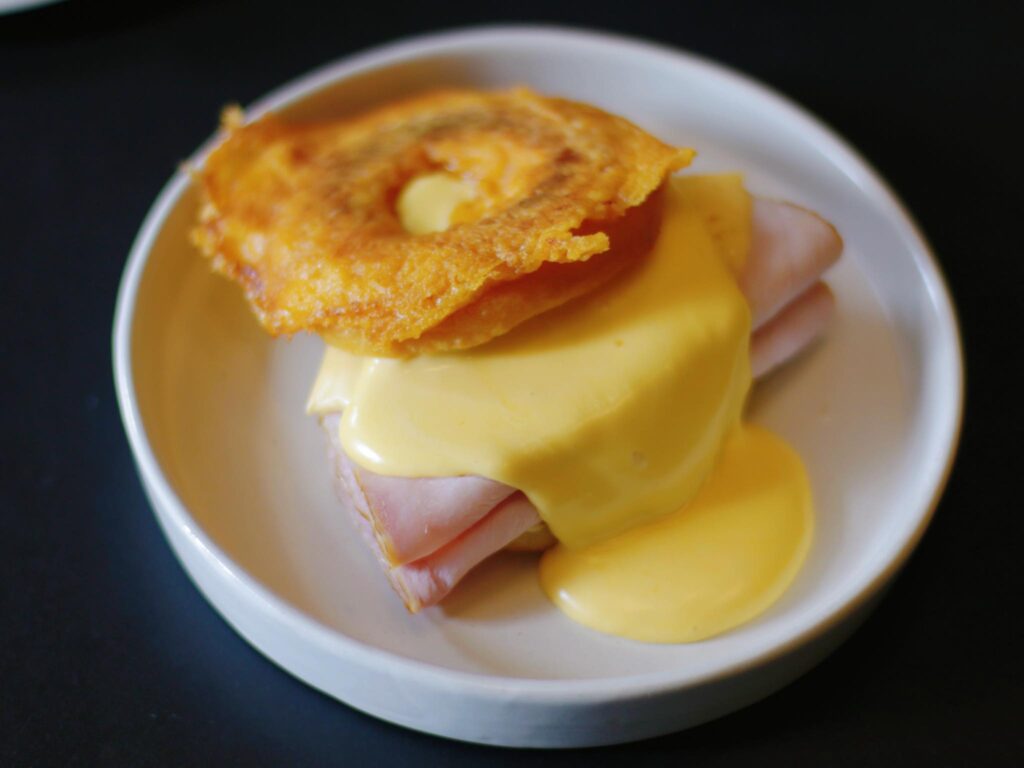 The fluffy donuts are fried with butter to form a crispy shell, sandwiched with creamy cheese and ham. This is the new breakfast menu of DROP BY DOUGH, which boldly makes donuts like sandwiches or burgers The combination of donuts breaks people's impression that donuts must be sweet. It is a very interesting innovation. You may think it is strange to do so, but in fact it is the perfect combination of soft donuts and cheese ham. More like a more flavorful sandwich, you don't think you're eating a donut when you eat it, but the look and texture tells you it's still a donut.
AVOCADO & EGG SALAD
The refreshing avocado is served with a simple egg salad, and the special sauce adds a richer taste to the whole dish. This donut must be very popular with girls. It is perfect both in appearance and taste. Refreshing and delicious, high-quality avocado creamy taste, served with donuts and egg salad, very healthy, you will not feel burdened just because it is a donut, it is a person who loves a healthy lifestyle best choice for.
CLASSIC VANILLA
This is the classic flavor of DROP BY DOUGH. According to reports, this is one of the four flavors that were opened at the beginning of the store. It can be sold to the present, which proves its deliciousness. The snow-like icing is evenly sprinkled on the soft and elastic sweet On the donut, the inner line is made of high-quality vanilla pods and custard sauce, with a light fragrance. If you don't like sweets very much, you must try this donut. It is not very sweet. But it can make you feel the deliciousness of donuts, and the combination of multiple tastes will make you want to stop, and donut lovers will not refuse. It is a must-buy flavor when you come to DROP BY DOUGH.
NUTELLA & HAZELNUT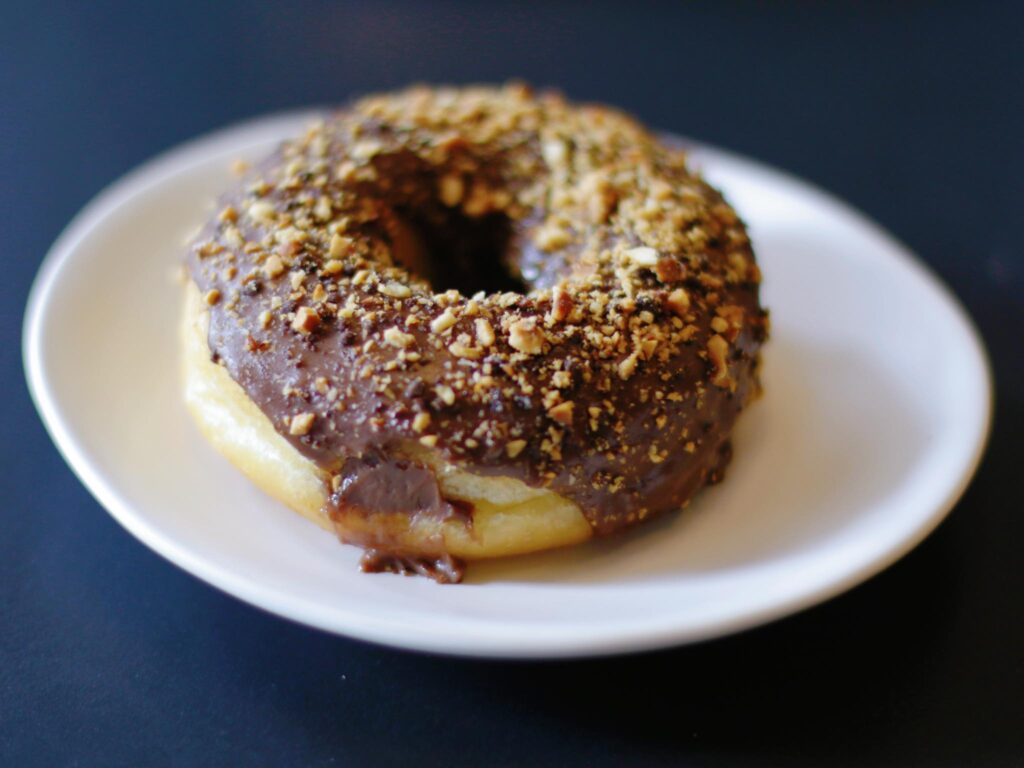 This is also the classic taste of DROP BY DOUGH donuts. The combination of rich Nutella custard and crispy nuts is classic and delicious. The chocolate filling is bittersweet and rich in taste. It will not make you feel tired. Order it A cup of coffee is perfect with a chocolate donut.
RASPBERRY ROSE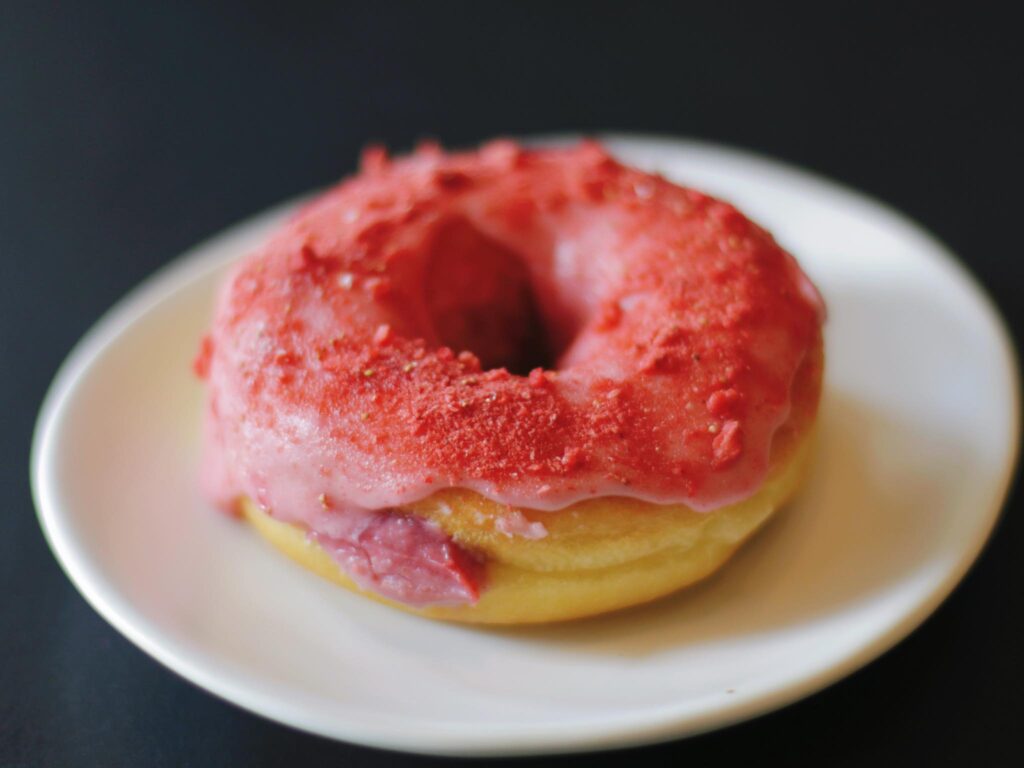 This is the best sell of DROP BY DOUGH. No one can refuse the combination of raspberries and roses. The sweet and sour raspberry jam sandwiches the fragrance of roses, just like the cool wind blowing in the hot summer, and the donuts are glazed Like granulated sugar, sweet and sour, combined with a cute appearance, whether you taste it yourself or pack it for your family and friends, this donut is the NO.1 you can't miss. You must try it with a cup of coffee. Have a nice tea time.
SALTED SUGAR CINNAMON
This donut can make you fall in love with cinnamon. I don't really like cinnamon flavor, but this donut is different from any cinnamon dessert I have eaten before. It has a light cinnamon fragrance and sweet and soft bread. With a hint of savory on top and a kick of cinnamon sweetness, I feel like this donut is perfect for Christmas, reminiscent of a warming fireplace and a soft bed
TIRAMISU COFFEE
The combination of dessert and drink, the overall flavor is very simple, but it makes you feel delicious. The cream milk cap is the finishing touch of this drink, which perfectly balances the bitterness of coffee. Just like its name, Tira Misu, drinkable coffee dessert, just like melted tiramisu, if you don't like to drink bitter coffee, try this tiramisu coffee, it will definitely give you a new experience.
PEACH TEA
This is my favorite. It is a drink made from a whole yellow peach. The sweet and sour yellow peach is paired with refreshing sparkling water. With the fragrance of tea, it perfectly neutralizes the sweetness and won't let you down If you feel too sweet and too greasy, you should drink fruit tea in summer. It is cool and refreshing, and you can eat the whole yellow peach pulp. Add it to your must-order list.
DROP BY DOUGH also has some products of its own brand, such as mugs, croutons, etc. If you come to DROP BY DOUGH, you may wish to buy some as gifts for family and friends or for your own collection. They are all good choices.
Details
Address: 11 Sukhumvit 101/2 Alley, Bang Na, Bangkok 10260
Website:https://www.facebook.com/dropbydough
business hours: 10:00 – 18:00