Handel's Messiah Christmas Concert 2022
18dec7:00 pm10:00 pmHandel's Messiah Christmas Concert 2022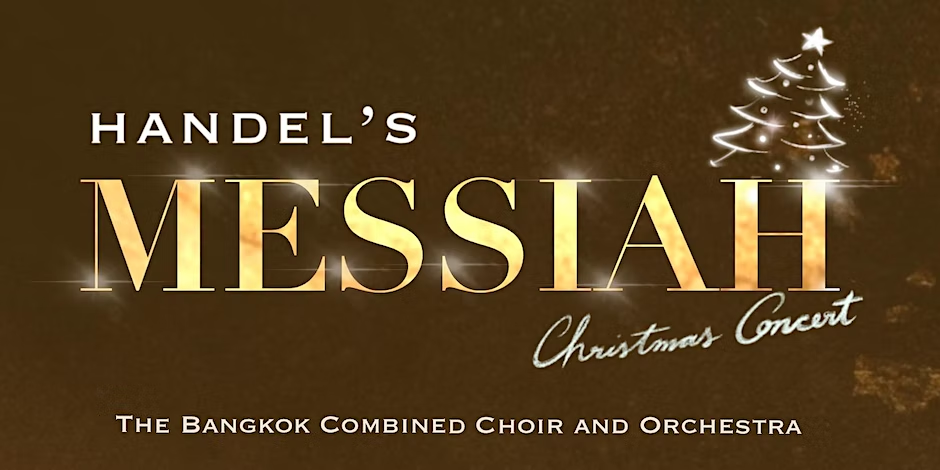 Event Details

Let us come and rejoice in the spirit of Christmas together this year at the legendary Handel's Messiah Concert with the BCCO and the NSO!
About this event
***Despite that all of our seats are FULLY BOOKED, we are still welcoming all walk-in guests at the venue. We will be opening for a waiting list at the registration desk on the day of the performance. All guests are required to be at the main hall 30 minutes before the perrformance.***
When the winter season has arrived, and the joy of Christmas is in the air, nothing is better than a warm gathering with your loved ones while immersing yourself in the enchanting tunes from one of the most famous oratorios– Messiah, by the German-British composer, George Frideric Handel.
The Bangkok Combined Choir and Orchestra (BCCO) welcomes you to 'Handel's Messiah Christmas Concert 2022.' Every year, the BCCO brings the well-known oratorio, along with the wonderful news of Jesus Christ the Savior, back to life through the harmony from each devoted choir member and musician of national and international backgrounds. Moreover, this narrative work of art tells the lyrical gospel– from Navity to Salvation– which will be narrated through the gifted voices of this year's prominent soloists:
Soprano – Tae Miyata
Mezzo-soprano – Manasanun Aksornteang
Countertenor – Puntwitt Asawadejmetakul
Tenor – Benjamin James Dooley
Baritone – Kittinant Chinsamran
The concert will comprise of 2 sections–
a 'Christmas Special' arrangement by Veeraphan Vawklang, Thailand's National Artist (Modern Music), and
an abridged version of 'Messiah' directed and conducted by Charunee Hongcharu, from the Faculty of Arts, Chulalongkorn University.
*Exclusive Collaboration* The BCCO are thrilled for the privilege to perform once again with National Symphony Orchestra, Fine Arts Department, Ministry of Culture.
The concert will be held on Sunday 18th December 2022 at Main Hall, Thailand Cultural Center, from 7:00 onward.
If you are looking for a celebratory occasion during this Christmas, save your seats now for FREE!
Donations and sponsorships from you are most appreciated.
*All seats are first come first served, so come early to save your best!*
For further information, visit us at our FB Page 'The Bangkok Combined Choir,' or reach us at bcco.connect@gmail.com
more
Time

(Sunday) 7:00 pm - 10:00 pm
Location

Thailand Cultural Centre

14 Thiam Ruam Mit Road