Excellent Vietnamese fare, prepared in accordance with traditional methods rather than altered to suit Thai palates, to give the diners a true experience of Vietnam.
Shaun Pham, the proprietor, was raised in Saigon before relocating to California with his family. Shaun Pham reflects on his upbringing, saying,"I grew up in my mother's home cooking, so even though I grew up in the US, I was always surrounded by delicious Vietnamese food, which helped me stay connected to my culture."This is also his original intention to open this restaurant, "Son of Saigon" is his tribute to his mother and his roots.Despite spending most of his life in America, he never stopped being proud of his Vietnamese heritage, he saying, "I can proudly state that I am a son of Saigon."
In 2009, Shaun Pham uprooted his life and took a job in Bangkok. Since it was so hard to locate real Vietnamese food when he left the country,so he started to cook at home and invite friends to taste. After he opened the first restaurant named After working for the PR firm Spotlight PR, he wanted to challenge himself to do something that he always wanted to do but never had the chance to do.Last but not least, during the COVID-19 pandemic, when things were less hectic, Shaun Pham enrolled at Le Cordon Bleu to hone his culinary talents and get ready for the debut of Son of Saigon.
Pick a nice day, and head to Son of Saigon for some tasty cuisine! You don't have to go to Vietnam to enjoy delicious traditional cuisine.
Grilled Chicken Banh Mi
For Shaun Pham, the best kind of street cuisine is a Vietnamese sandwich. There's homemade meat sauce, mayonnaise, pickled veggies, and aromatic grilled chicken marinated in his mother's secret recipe, all sandwiched between two layers of soft and crispy banh mi. To get a crispier bread crust and to infuse the air with the scent of roasted chicken, they'll just bake the assembled sandwiches. The flavor is balanced by the addition of fresh veggies, which also make the sandwiches more nutritious. The grilled chicken and vegetables are delicious, but they really hit the spot with the homemade sauce. As far as Vietnamese sandwiches go, this one is hands-down the best I've ever had. It can make people from other countries experience the deliciousness of Vietnamese food and fall in love with Vietnamese food.
Summer Roll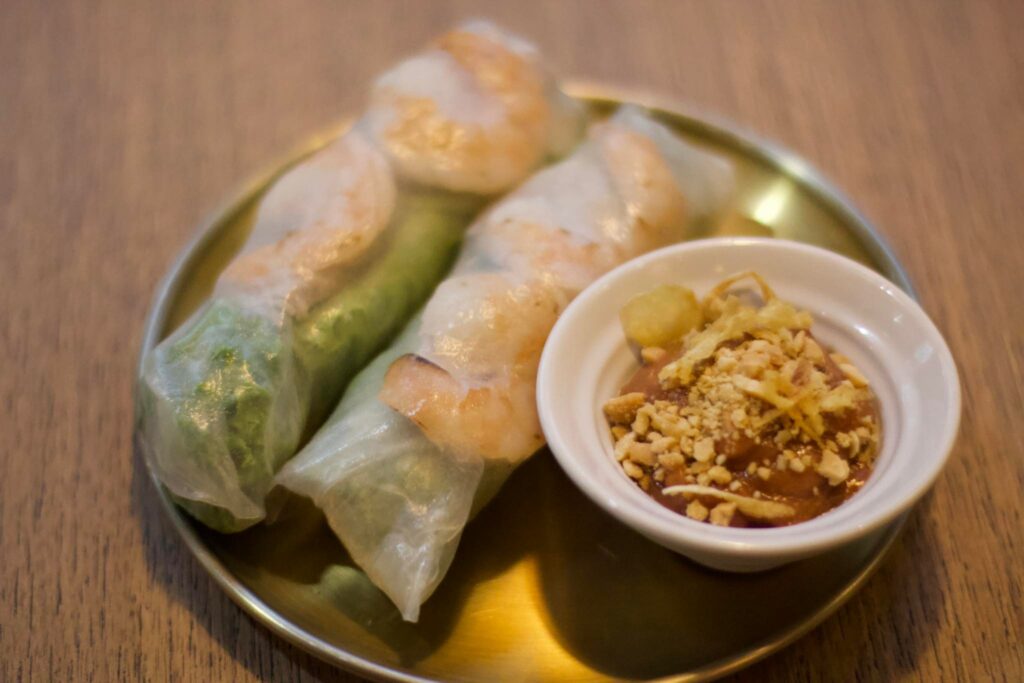 Because they are refreshing, healthful, and delicious, summer rolls have gained widespread popularity as a traditional Vietnamese street dish. It's got the ideal amount of carbs, veggies, and protein. Shaun Pham prepares a popular dish with a lean cut of pork and a giant shrimp doused in peanut sauce. I've tried a lot of Vietnamese summer rolls, and this one is hands down the best. The shrimp and pork flavors will still come through even with the addition of vegetables. When dipped in peanut sauce, it's both nutritious and tasty. Without any flavoring, the Summer roll skin is quite edible. It does double duty as both a visual and gustatory pleasure by wrapping the food securely and providing carbohydrates at the same time, making the spring rolls seem as appetizing as they taste.
Grilled Pork Noodle Nowl
In Vietnam, a summer meal is not complete without a bowl of Roast Pork/Chicken Noodles. These noodles are crispy and light but still incredibly flavorful and satisfying. Vegetables, rice noodles, grilled pork or chicken, and a tart fish sauce drizzle top this delicious bowl. You can order it with fragrant Pork and hot and sour fish sauce, and if you like spicy food, you can add some chili sauce from the store, and it is very delicious. When the clerk starts cooking, the whole restaurant is filled with the aroma of barbecue, with fresh vegetables and topped with seasonings.
Beef Pho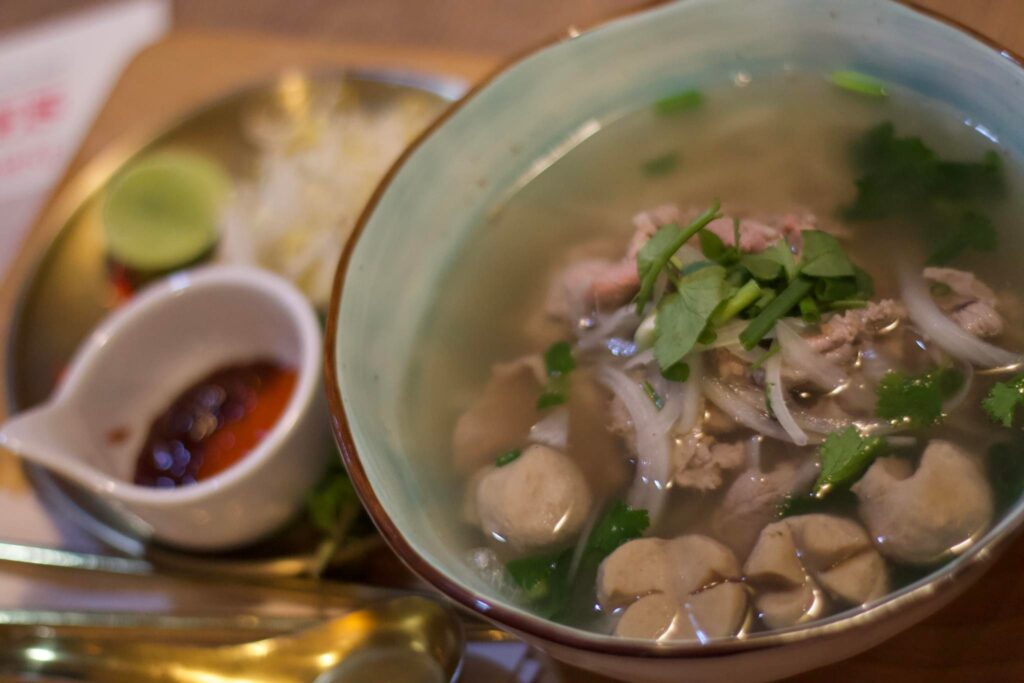 To me, a bowl of beef pho is like a warm embrace. As Shaun Pham said it. Whether they're hungry for breakfast, lunch, dinner, or a hangover cure, Vietnamese people can always rely on pho. Traditional solace can be found in this method. The beef bones and spices in the Saigon-style pho broth show out without being overbearing, and the broth has a richer flavor overall.It is not necessary to have the fresh beef be particularly hot or cooked thoroughly for it to be consumed. Since the meat will be poured with hot beef broth at the end to cook it gently and stimulate the aroma of the beef, medium rare steak is best for pho. And now you have a warm bowl of beef pho, complete with scallion cilantro and tasty beef balls. Though it appears to be light, the beef broth is delicious. This is the best dish at this restaurant; you simply must get it.
Mango Salad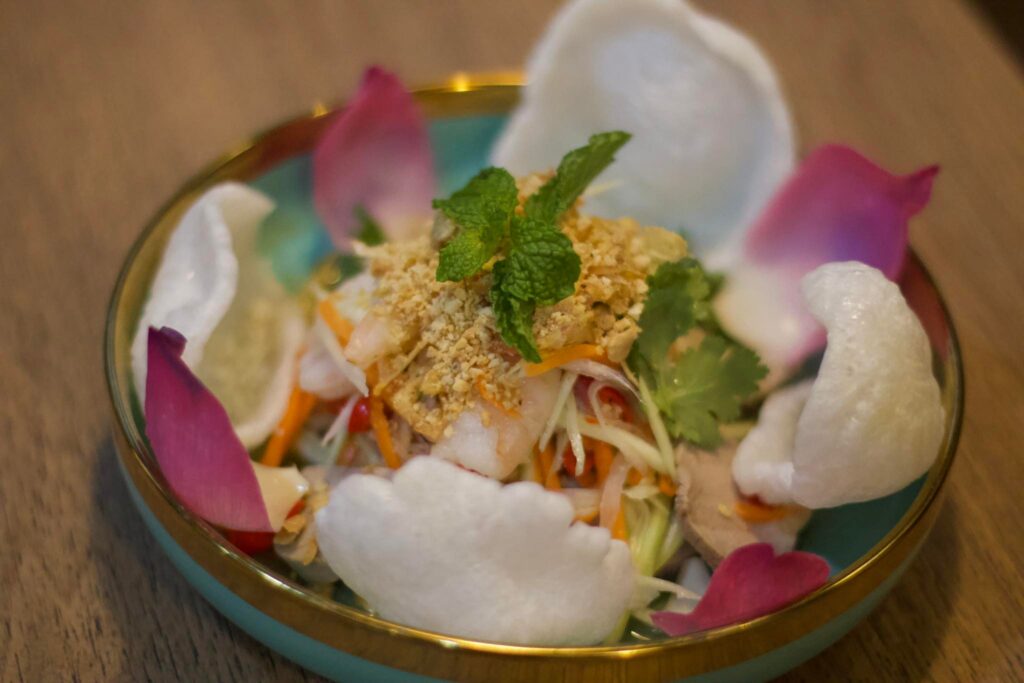 Green mango is the base of this dish, which also features herbs, pork, shrimp, and a spicy fish sauce from Vietnam. Mango salad in this restaurant is served with fresh shrimp since that is how Shaun Pham prefers to eat it, even though dried shrimp is more traditional. What I enjoy most about it is that in addition to looking wonderful, it is also quite tasty, allowing you to eat a lot of it. The spicy and sour flavor is reminiscent of summertime and provides a pleasant sensation.I am willing to eat such an appetizing salad in the hot weather when my appetite is low.
Salted Plum Soda
It's common for Vietnamese people to recall their childhood through the taste of salted plum soda. In order to create a sweet and salty carbonated drink, salted plums are combined with soda water and some sugar. It has a pleasant aroma and can be used to cleanse the palate on hot days. The first time I tried the salty plum soda, I was blown away; at first sip, you might expect it to be very salty, but by the time you've finished your glass, you'll notice a hint of sweetness. If you find yourself in the desert this summer, and you drink a glass of salted plum soda, you may find yourself thinking, "This is like an oasis in the desert; I don't want to stop drinking it."
Vietnamese Iced Drip Coffee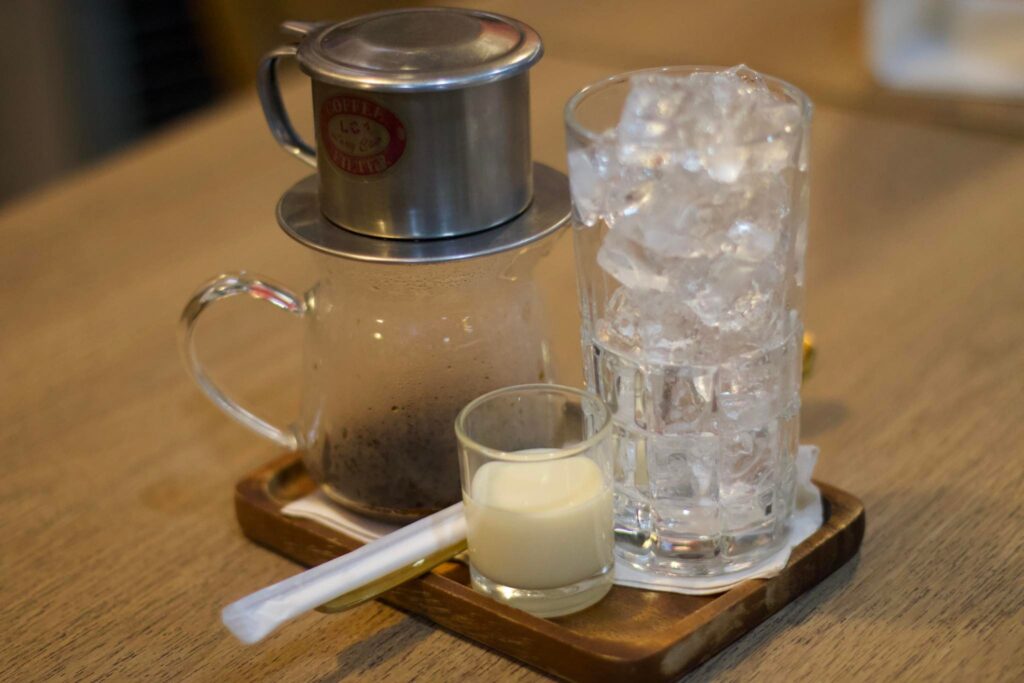 Saigon locals regularly consume a cup of coffee brewed using a Vietnamese filter. The slow brewing process is one of the reasons why Shaun Pham enjoys this coffee."The reason why I like this coffee is that it takes time," Shaun Pham said.You can take a break from the hectic pace of modern life by ordering a cup of Vietnamese Iced Drip Coffee on a sunny afternoon and sipping it slowly as you watch the coffee slowly drip, letting the aroma of the Robusta coffee fill the air. You can get together with your friends and share a cup of coffee while reminiscing about the good old days. Being alone with a cup of coffee and watching it slowly drip down can be very relaxing. If you're feeling anxious, try drinking it over ice with just the coffee's rich aroma; if you prefer your coffee less bitter, try adding a bit of condensed milk to cut the acidity, making the coffee bitter and sweet, making it more palatable.
Shaun Pham is always thinking of new ways to expand his business while catering to his customers' individual tastes. He's thinking about moving to a larger space in 2023 and taking advantage of a new opportunity that's presented itself in the meantime. Customers love the restaurant's homemade Vietnamese pate and pickles so much that he has begun offering takeout options for both. You'll soon be able to purchase fish sauce, peanut dipping sauce, and his family's top-secret BBQ marinade from him so that you can make authentic Vietnamese barbecue in the comfort of your own home.
Still concerned about where to find authentic Vietnamese cuisine? Those memories of home cooking still haunt you? You'll fall in love with Vietnamese food at Son of Saigon because you'll taste the owner's love in every bite and be transported to the busy streets of Saigon.
Details
Address:39 Phrom Phak Alley, Klongton Nua, Watthana, Bangkok 10110
Website:https://www.facebook.com/sonofsaigon
business hours: 10:00 – 21:00